Google Doodle – Anna May Wong (1905-1961)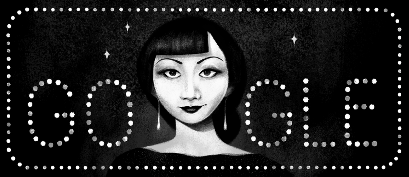 Today's Google Doodle featuring Anna May Wong went up on January 22nd, the date written 1/22. We're also in the 1st month of 2020.
Today is 10 months, 22 days before the next total solar eclipse: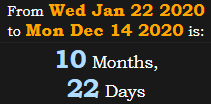 Wong was born to Toisonese parents (there are several different spellings of this word)

The 122nd Prime number is 673
Wong died at the age of exactly 673 months: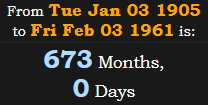 ---
The date of today's Google Doodle has Primary numerology of 63

Wong is considered to be the first Chinese-American Hollywood film star.

Yesterday was exactly 6003 weeks after Wong was born:

---
"Jesus" Riddle
Anna May Wong died 1 month after her 56th birthday, syncing up with her birth name:

She was 56 years, 1 month old: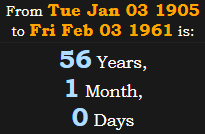 561 is the 33rd Triangular number

Her last full day alive was the 33rd day of the year:

In the New Testament, Jesus is crucified at the age of 33 as darkness fell over the daytime sky.

Wong's stage name has matching gematria with both Ordinal values of Jesus Christ

Her birth name has matching gematria with the Greek value of Jesus


She died in the year '61


The date was February 3rd, written 3/2, the date that leaves 331 days in the year:

---
"13" Code
In Reverse, Anna May Wong sums to 169

169 is 13 squared
She died a span of 13 days before the next total solar eclipse: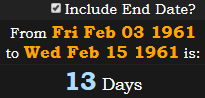 13 is another number of sacrifice.




The number thirteen sums to 99 and 117

Wong was born on 1/3, a span of 117 days after a total solar eclipse that fell on 9/9