Pitcher Don Larsen Dies @ 90



His name has the same gematria as Thirty-three, and Don Larsen equals 330

His famous World Series perfect game was thrown while he played for New York

He died at age 90

His birthday was August 7th, written 8/7.
He died 314 days before he would have turned 33,333 days old:

---
Larsen was in his 33,020th day since birth: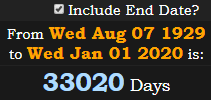 He died on the first day of 2020, a span of 220 days before his next birthday, which occurs on the 220th day of he year.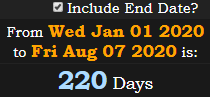 This means he died 147 days after his birthday:

Larsen was most famous for his aforementioned Perfect Game during the World Series, still the only one to be thrown in the postseason to this very day.

---
The date January 1st sums to 162 in both Ordinal and Reverse:

Each team in Major League Baseball plays 162 games in the regular season.