Singer Eddie Money Dies @ 70 From Esophageal Cancer

In 2018, for some reason, AXS TV began airing a show called Real Money, starring Eddie Money and his family, in 2018. The episode in which he reveals his cancer diagnosis aired the day before Eddie Money died.
He died from esophageal cancer

He was 70 years, 5 months, 23 days old: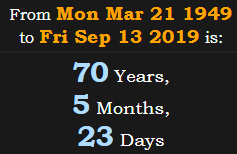 His death fell 523 days after the April 8th debut date of Real Money

The show's debut had date numerology of 50 and 23

523 is the 99th Prime number

The only number that sums to 99 in the alphabetic order is thirteen

Eddie died on the 13th day of the month. The date is written internationally as 13/9
139 is the 34th Prime number

---
Synchronicity
I'm making this post from Anarchadelphia, which is a conference primarily focused on cryptocurrency. The goal is to end the control structure put in place through the Federal Reserve, which controls our money supply, and thus controls the economy. So how weird is it that Eddie Money died on Day 1 of the event?
---
Headline Gematria



The 466th Prime number is 3313