Scientists Discover Mystery Mass in the Moon


This article made headlines today, a date with 57 and 21 numerology:



The Moon has a maximum declination of 28.5° in either direction of the equator, giving it a total range of 57 degrees.
Today is also 21 days before the total eclipse: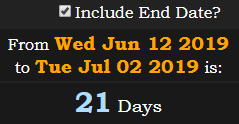 June 12th is the 163rd day of the year:

163 is the 38th Prime number

---
The article was actually published late last night, the 11th, a date with 56 numerology: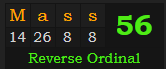 NASA was 10 months, 13 days, or 317 days, after its anniversary:

113 is the number of deception. 317 is the word LIE flipped upside-down.
This means it's 48 days before NASA's anniversary:

This makes it pretty funny that they say the mass is 4.8 quintillion pounds:


The 48th Prime number is 223