Yesterday was a date with Standard numerology of 46

This was a good day for Elon to hold a press conference about Tesla Autonomy, a day which he dubbed Autonomy Day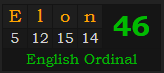 ---
Tesla was founded on July 1st, which is the 183rd day of the year in leap years, and is always the date leaving 183 days in the year. This syncs up with the Ordinal value of Tesla Motors, Inc, which was their official name until 2017:


183 has a Prime Factorization of the 2nd × the 18th Prime numbers.


The Moon has a 57-degree range of declination.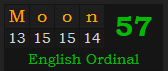 The headquarters for Tesla Motors Inc is in Palo Alto, CA


The figurehead for Tesla is Elon Reeve Musk

Tesla was 5775 days old during yesterday's press conference

---
Elon Musk has the same gematria as total lunar eclipse


This Tesla presser was a span of 3 months, 3 days after the most recent (total) lunar eclipse: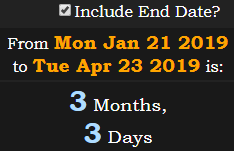 It was also a span of 2 years, 34 days before the next total lunar eclipse: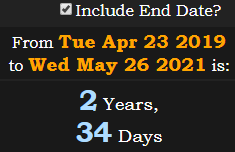 The date was April 23rd, written 23/4 internationally
The date can also be written 4/23

The date had 66, 39, and 21 numerology: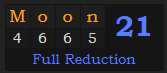 The Moon's most significant cycle is the Metonic cycle, which is a period of 19 years.