Martina Navratilova Criticized for Being Transphobic

Notice the 7:09 update time:

The headline sums to 877 in Reverse:

877 is the 151st Prime number

151 is the 36th Prime number

---


Navratilova is in the news for being accused of transphobia by Rachel McKinnon. Today is 123 days into her 63rd year: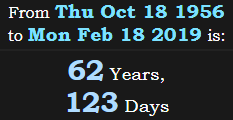 Dr. Rachel McKinnon voiced her opposition to Navratilova's remarks on February 17th, or 2/17

---
Anthony Weiner Riddle?
Martina Navratilova (full name) is in the news on the same day Anthony David Weiner was released from prison.

This story is about trans athletes