The States Decoded – #3 New Jersey

New Jersey was the third state admitted to the Union on December 18th, 1787, a date with a Life Lesson number of 35


The 82nd Prime number is 421

---
In Single Reduction, New Jersey sums to 52

The 52nd Prime number is 239
The first Governor of New Jersey was William Livingston

In Satanic gematria, New Jersey sums to 439

439 is the 85th Prime number

---
The numerology of New Jersey is heavily-associated with Saturn. First, consider the date it was established, December 18th, which is during Saturnalia.


New Jersey has a Reverse value of 119

This is a special number, associated with Saturn, the All-seeing eye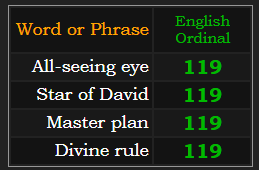 The 11th Prime number (31) multiplied by the 9th Prime number (23) equals 713

---
Using Square numbers, Saturn sums to 1723

William Livingston was born in 1723.

The 30th Prime number is 113. Livingston was born on 11/30
Saturn falls into direct conjunction with the Sun every 54 weeks. Livingston's birthday has a Life Lesson number of 54

Saturn is known as the keeper of Time


The name William Livingston sums to 2054 in Jewish gematria:

---

Livingston assumed office on August 31st, 1776. This was 9 months, 1 day after his birthday and 91 days before his birthday: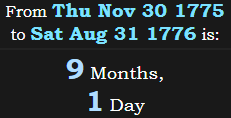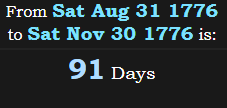 The date August 31st is written 31/8. New Jersey's date of statehood is December 18th, which is 3 months, 18 days after 31/8
Livingston died a span of 31 months, 8 days after New Jersey became a state: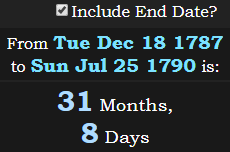 His death was also 220 days after New Jersey's 2nd anniversary: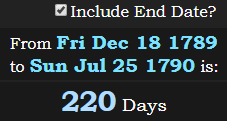 The 22nd Prime number is 79

22 is 11+11
New Jersey's date of statehood fell a span of 11 years, 110 days after Livingston became governor: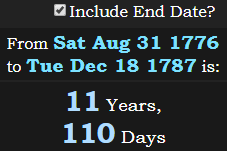 ---
Livingston's death fell a span of exactly 34 weeks after his birthday: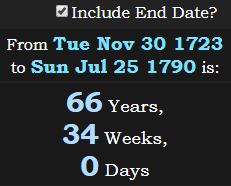 The 34th Prime number is 139, matching the Full numerology of the date he died:

July 25th is the 206th day of the year:


The date is written 25/7