FEMA Changes Date of Presidential Alert

They had originally chosen September 20th, a pretty good date for a Presidential alert, but they've moved it back almost two weeks.
The new date is October 3rd, the date that leaves 89 days in the year:


89 is the 11th Fibonacci Number
1 – 1 – 2 – 3 – 5 – 8 – 13 – 21 – 34 – 55 – 89
The test comes from FEMA's WEA system:

The date has Reduced numerology of 15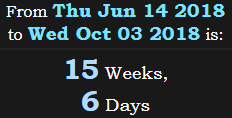 In Reverse, FEMA's full name sums to 156. October 3rd is 15 weeks, 6 days after Donald Trump's birthday:
The Presidential Alert also falls 185 days after FEMA's anniversary, which is April 1st:


---


October 3rd, which is written 10/3, is 13 days after the originally-planned date. The new date has 13 numerology:


As I commonly say, 13 is the primary ritual number. FEMA was founded on the 91st day of the year, which is the 13th triangular number, on a date with 103 numerology:



The date also had 31 numerology. The date of the FEMA alert early next month will also have 13/31 numerology, just like the date Trump was sworn in.