Alan Alda Says He Has Parkinson's Disease




46 is a number of sacrifice that traces back to the Hebrew language.



19 appears to be another number heavily-attributed in death.
"Chaos" = 19 (R) | 46 (O)

The 19th prime number is 67
Alda is best-known for his role on the TV Series M*A*S*H

In Ordinal, M*A*S*H sums to 41, which is the 13th prime number, lining up with the gematria of Actor Alan Alda

---
I'm not finding anything terribly interesting about the date on which this announcement was made, which is a little surprising, considering he was diagnosed with the illness over 3 years ago.
Perhaps this is relevant? Today is 181 days before Alda's birthday:

181 is the 42nd prime number. This story is about a sick Alan Alda being diagnosed with Parkinson's.


It's been35 years, 5 months, 3 days since the last episode of M*A*S*H: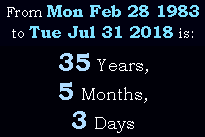 53 is the 16th prime number
"Alan Alda" = 16 (Jewish Reduction)
---
M*A*S*H ran for 256 episodes

The show's name also has a tribute to that special number, 33