Duck Boat Accident Kills 17 in Missouri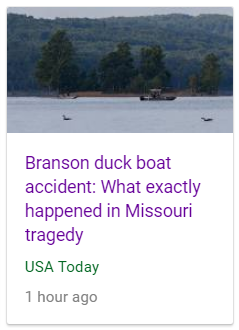 A duck boat in Branson, Missouri decided a severe thunderstorm warning was no big deal, so they sent a boat with 31 people out onto the lake, where they encountered 60-mph winds and capsized, killing 17 people.
The number 31 is interesting in this case. For starters, 31 is the 11th prime, the number of people originally reported dead.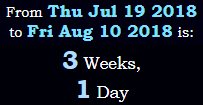 But the study of numerology has a lot to do with the Gregorian calendar. The state of Missouri, the site of this tragedy, is 3 weeks, 1 day before its anniversary of statehood:
On August 10th, Missouri will be celebrating its 197th birthday:
The date of this incident was July 19th, written 19/7 in most parts of the world. This also syncs up with the name of the company responsible for the incident.

197 is the 45th prime number



There are a lot of similar numbers here to the death of Denis Ten, who you could maybe call "Mr. 13", who also passed away on the same date. "Denis Ten" = 370 (Satanic) and he died a span of 37 days after his birthday.
The date had a life lesson number of 37

The governor of Missouri, Mike Parson, was born on a date with reduced numerology of 37



This Duck Boat crashed in the waters of Table Rock Lake
---
13 is the primary ritual code, as I document endlessly here on this blog.
A few years ago, a Ride the Ducks bus crashed on a Seattle bridge, killing 4 people. That occurred on September 24th, 2015. Measuring from that date to the date of the incident in Branson: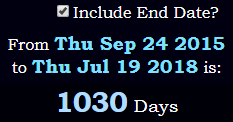 The 13th prime number is 41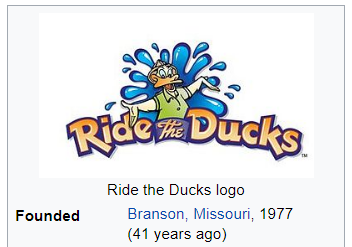 Notice they were founded in the year '77


Ride the Ducks was founded in Branson, Missouri, the same city as the accident, 41 years ago. The company's most recent incident before this was in Seattle on a date with a life lesson number of 41
(9) + (24) + 2+0+1+5 = 41
The 41st triangular number is 861

The governor of Missouri is strongly-connected to Branson through the numbers. First, he was born on September 17th, written internationally as 17/9, which is the 41st prime number.
He was born in '55
7 + 1+9 + (20) + (18) = 55



199 is the 46th prime number

Parson was born on the 260th day of the year:



It's been 1 month, 19 days since Parson became governor…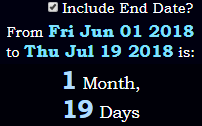 …And 11 months, 9 days since Missouri's anniversary of admission to the Union: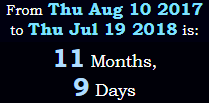 911 is the 156th prime number
"Thirty-three" = 156 (O)