Steve Winwood's Moon Numbers
I was watching Game 4 of the NBA Finals for some reason tonight and I noticed they played a song by Steve Winwood called "Higher Love".
I thought…what a strange choice. So I looked up Steve Winwood's birthday to see how old he was: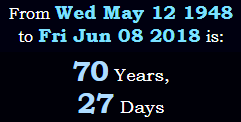 This 727 / 272 sequence seems to refer to the Moon. Dividing the approximate width of the Moon by that of the Earth is 0.27272727…
So I figured Steve Winwood would have some Moon numbers, and apparently I was right.

He was born in the year '48

The Moon as a symbol is a circle, which represents the passage of time. The circle is the 15th letter in the alphabet.

Higher Love, his most popular hit, was released on a date with numerology that matches circle in all four base ciphers:



The B-side of the single for Higher Love was called And I Go

The 32nd prime number is 131, which is found in both the song's Extended gematria and the date numerology:


---


The Moon is ~2160 miles wide

The most significant cycle of time in relation to the Moon is the Metonic cycle, which is made up of 19 solar years and 235 lunar phases. Both of these numbers are represented in his full name gematria:


Add 19+235 and you get 254
The single version of the track is 4:14. This converts to 254 seconds

He's from Handsworth, Birmingham, in England

Higher Love was released 1 month, 9 days after his birthday: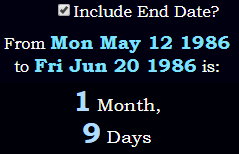 He was 38 years old

Winwood was ranked #33 on Billboard Magazine's 2008 list of greatest singers of all-time. Recall, every 33 years in a 12-month lunar calendar, one more year needs to be added to keep pace with a solar calendar.