Fran Drescher and the 2023 SAG-AFTRA Strike
The SAG-AFTRA strike is underway here in 2023.

---
SAG-AFTRA started its Picket line started on July 14th, a date with Primary numerology of 64 with a Reduced sum of 28: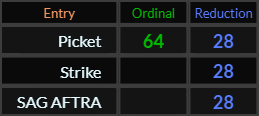 The 28th Prime number is 107

Both the Writers and Actors Guilds are Sacrificing today's pay for a more fair tomorrow.



Fran Fine

was the main character of The Nanny

The character's full name has matching gematria with the word Strike.

---
Fran Drescher
The Nanny premiered in the year '93. Fran Fine was played by actress Fran Drescher, who is now the president of SAG-AFTRA. She was born on September 30th, written 9/30:


---
In Ordinal, The Nanny sums to 101, matching her full name in Reduction.



The date was July 14th, or 7/14

Fran Drescher

is currently 65 years old

---
Drescher has Primary birth numerology of 115 with a Reduced sum of 34, matching The Nanny in Reverse:



Her full name even matches The Nanny using Capital letters.