Biden's Bid to Forgive Student Loans Falls Through
Biden's Loan forgiveness plan was dealt a death blow today, June 30th, which is the 181st day of the year:



---

Sleepy Joe first announced his plan to forgive Student loans on 24/8 – the 24th of August in 2022, a date with Primary numerology of 74:


---
Biden v. Nebraska


311 is the 64th Prime number

The official case is called Biden v. Nebraska.

Nebraska is the 37th state

---




Joe Biden has matching 145 gematria with Nebraska, which is a number that connects his presidency to the Moon.


---
223 / 322

We're halfway through the year 2023, the Skull and Crossbones year.


The Skull and Bones secret society is headquartered at Yale University, which turns 322 years old later this year. The Supreme Court dealt Biden a blow 101 days before Yale's 322nd anniversary: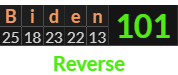 101 is the 26th Prime number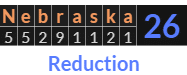 ---
Supreme Court & "Joe Biden"


The Supreme Court was first entrenched on March 4th, or 3/04, the 63rd day of the year. Today is June 30th, or 6/30. The Supreme Court made a 6-3 ruling.
---



This is being hailed as a win for Republicans, who are led by Speaker of the House Kevin McCarthy.