PGA Tour Merges With LIV Golf, Sparks Controversy

Notice the phrase ESPN quoted in their headline – Under one umbrella. This was chosen for a very specific reason, as it shares 180 Ordinal gematria with Kingdom of Saudi Arabia. A typical game of Golf contains either 18 or 9 holes.


257 is the 55th Prime number
LIV Golf CEO Greg Norman was born in '55. The merge was announced on a date with Primary numerology of 55:

The number Fifty-five also reflects the number 18 in gematria.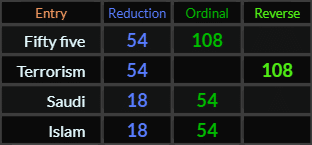 The 54 in Reduction is also important. LIV is 54 in Roman numerals. They hold 54-hole tournaments, as opposed to the PGA's traditional 72 holes.
---
9/11 Riddle
The highest executive position for the PGA Tour is held by Jay Monahan. The merger was announced 337 days after Independence Day and a span of 337 days before Monahan's 54th birthday:
337 is the 68th Prime number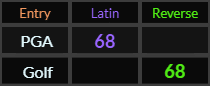 The Tour was organized separately from the Golfer's Association in the year '68.

The 19 hijackers blamed for the September 11 attacks were from Saudi Arabia.

World Trade Center construction began on the 6th of August, or 6/8 in the year '68, the same year president George W. Bush graduated from Yale. 9-1-1 was made the emergency dialing code in '68, which was also when 2001: A Space Odyssey was released in theaters.
---
As I frequently mention, the number 93 was central to the attacks of 9/11. The first plane hit the 93rd floor of the North Tower. The plane that struck the South Tower did so at exactly 9:03. George Bush first addressed the nation at exactly 9:30. Fight 93 was reportedly brought down by passengers.

The first multiple of 93 is 186

The two planes that struck the World Trade Center on 9/11 were Flights 11 and 175.
11+175 =

186


The PGA Tour – LIV Golf merger was made public on the 157th day of the year, matching the name of Saudi Arabia's Crown Prince:


---
D-Day
The name Jay Monahan has double gematria of 22 with capital letters. This is a significant number to Golf.

The 22nd Prime number is 79

9/11 was the tipping point for the war on terror. The war against the Axis powers was defined by D-Day.

---
D-Day falls on June 6th, or 6/6.



66 is 

11

×

6





116 flipped upside-down is 911
911 is the 156th Prime number


The 11th of September, or 11/9, is the 254th day of the year:


The current Saudi Kingdom was founded on September 23rd, or 9/23.

---
Prime Number Fun

The 31st Prime number is 127
He was born on the 127th day of the year:




---

193 is the 44th Prime number