Heat Blow Out Celtics in Game 7, Butler Wins Series MVP
It's a grim morning in Boston. Celtics fans are sulking today, a date with Primary numerology of 78, after their miraculous comeback fell short:

As I explained in my video this weekend, the Boston Celtics' comeback from 0-3 down to tie the series was a riddle related to the 2004 Red Sox, who broke the team's curse connected to Babe Ruth, whose real name was George Herman Ruth.



Jimmy's Heat held the Celtics to just 84 points, keeping them at 407 playoff wins in franchise history.

There were a total of 187 points scored in this game. Recall how this series began exactly 18 years, 7 months after the Red Sox began their reverse sweep against the New York Yankees = 187, whose coach Joe Torre was born on 18/7. The Celtics even hired Joe Mazzulla when he was exactly 1807 weeks old, while Mazzulla was born 187 days after December 26th – the date Ruth was traded to New York.

---


Consider how Joe Mazzulla was hired on February 16th, or 2/16. Last night's game took place on May 29th, the date leaving 216 days in the year:


216

is 

6

×

6

×

6
---
666
Jimmy Butler won the Eastern Conference Finals MVP Award, which was renamed to the Larry Bird Trophy last year. I didn't even know they named the trophy after Bird when I made this post, which showed how Bird's numbers were relevant to this year's playoffs, particularly through the number 666.


---
In Reverse Reduction, 666 sums to 103.


Mazzulla's next game will be his 103rd as head coach. Miami won with 103 points – the same score they lost with the previous game. This is another number heavily trending this year with Babe Ruth, who was born on a date with Standard numerology of 103:



The first winner of the Larry Bird Trophy was fellow Celtics player Jayson Tatum.

103 represents 13 in numerology. The number Thirteen has matching gematria with Miami.

The halftime score was 52-41, meaning 93 points were scored in the first half.


---
33
Babe Ruth was born in 1895.

The Heat barely escaped the series, which Boston was able to tie at 3-3. Jimmy Butler is 33 years old. As I commonly point out, this is a number intricately-linked to the 666 code.



The 33rd Prime number is 137

Babe Ruth died on the date leaving 137 days in the year:

---
The first Larry Bird Trophy winner, Jayson Tatum, was born on March 3rd, or 3/3: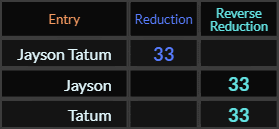 Tatum's middle name is Christopher, which means "Christ-bearer."

He has birth numerology of both 33 and 123, which is the date leaving 303 days on the calendar:

He was born in 

1998


1998 is 

666

×3
---
Why Does This Line Up?!
To begin this post, I mentioned how Boston Celtics = 78 and George Herman Ruth = 78, and today has 78 numerology, even though the game was last night. As it turns out, there's more fascinating alignments with May 30th.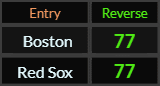 May 30th is written as 5/30.