I Witnessed Shohei Ohtani Hit the Highest Home Run Ever
As most of you may be aware of, I live in the Milwaukee area and grew up a huge baseball fan, playing several years of organized ball as a kid. Although my support for professional sports has dwindled greatly in my adulthood, I still genuinely enjoy the sport and go to one or two games per season with family and/or friends.
Last week, my dad took several family members including myself to the game against the Los Angeles Angels on April 30th, as he wanted to see Shohei Ohtani play. While we didn't get to see him pitch, Ohtani did not disappoint at the plate. In his second plate appearance, Ohtani absolutely demolished a mistake from pitcher Colin Rea, hitting a 413-foot home run to center field.

Although by Ohtani's standards, the 413-foot blast was far from his furthest, the home run actually broke a record on Statcast, which has been measuring on-field data since 2015. Vertically, the ball was hit 162 feet high in the air, higher than any previous round-tripper. Even before the ball came down, I commented to my brothers how insanely high the ball was hit, as it appeared to come very close to the roof.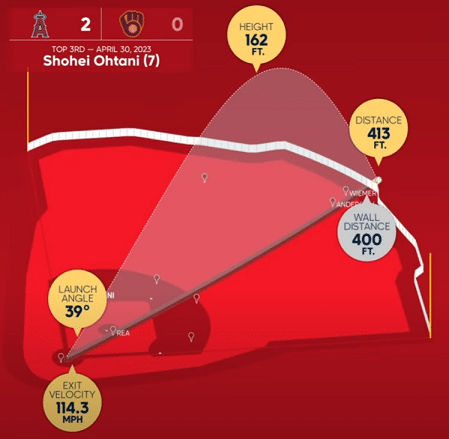 Let's not lose sight of how relevant the number 162 is to Major League Baseball, where each team plays 162 regular season games.

Naturally, the Brewers were red hot at 18-9 going into the game, but they've lost six straight since I attended.
---
Moon Shot
So why am I making a post about this? When MLB posted the clip to YouTube, they called it a Moon shot. This was echoed in several other media outlets as well.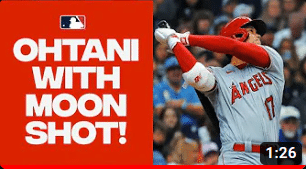 He hit it off a pitcher named Rea on a date with Standard numerology of 57:


I happened to finally make this post on May 7th, or 5/7. 57 is a highly-significant number to the Moon, which not only has Ordinal gematria of 57, but also has a 57° range of declination: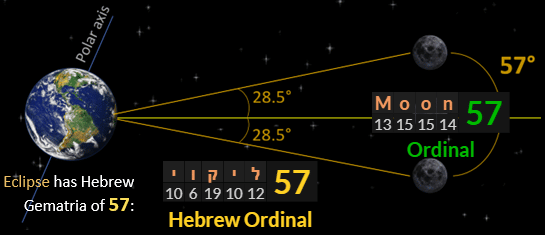 Ohtani was born on the 5th of July, which is written as 5/7 in Japan:

Shohei

wears #17

17 is the 7th Prime number. It was his 7th home run, and the ball was in the air for an astonishing 7 full seconds.
---
Ohtani plays for the Los Angeles Angels. For years, I've been explaining how Los Angeles seems to be the ultimate "Moon" city in America.
In that time, I've also been explaining how the Brewers are one of MLB's major "Moon" teams, as their numerology is closely-entwined with significant numbers of The Moon.  The scoreboard frequently shows "Moon shot!" after the Brewers hit a home run (or used to anyway).


When you go to the Wikipedia page for the Moon, you see there are a handful of alternative names for it in English, including Selene:

This was the first time I ever attended a Brewer game with my niece, Selena.

In this presentation, I explain why the Moon's primary number is 666.

Ohtani's homer came off of pitcher Colin David Rea.

---
Pitcher Colin Rea
Selena's last name is not Tikkuri like mine, but Mayeshiba. This is because she's the daughter of one of my three half-brothers, whose father is Japanese. Shohei Ohtani is, obviously, Japanese.
Her name also shares 707 gematria with Ohtani's nickname, Shotime.

Ohtani's blast came off of Brewers hurler Colin Rea on a date with Primary numerology of 77:


---
It makes sense I would have this synchronicity in 2023. The height of Ohtani's home run, 162, has Reverse gematria of 223.

Recall how The Milwaukee Brewers were purchased by Mark L. Attanasio for $223 million.

There are 223 lunar phases in the Saros, which allows us to predict the next solar or lunar eclipse.
Pitcher Colin Rea wears #48 for the Brewers: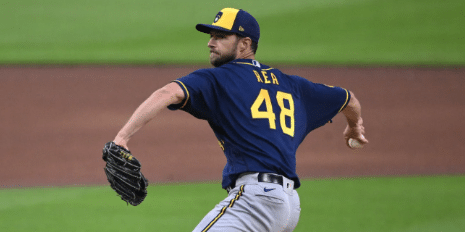 Selena's full name has gematria of 209 and 331.


331 is the 67th Prime number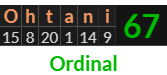 ---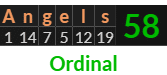 There are 271 days between Shohei's and Selena's birthdays. 271 is the 58th Prime number.

The date of April 30th, or 4/30, also stands out. Although my first name is Derek, most of my friends have always called me by my nickname, Tick. This is the same nickname that belonged to my dad, who took us to the game.
---
My Own Moon Alignments
Above, I pointed out several connections to 283. 283 is the 61st Prime number.

I've always been freakishly-connected to the Moon by the numbers. I was born during Brown Lunation # 772, matching the Standard value of my common name.

Not only does my last name match Moon shot in Latin, but it's also a Supermatch with The Moon.