American Olympic Gold Medalist Tori Bowie Dies @ 32

Track athlete Tori Bowie won Olympic Gold for the United States in the 4×100 relay in 2016. Earlier in the year 2016, famous musician David Bowie died suddenly of cancer.
David Bowie was born in London, England. The next year, in 2017, Tori Bowie won an individual Gold medal in the women's 100-meter in London, England.
Just like David, Tori's death is connected to the code of Solar Eclipses. During a Total Solar Eclipse, the Sun, our star, appears black. Just two days before David Bowie died, he released an album called Blackstar on his 69th birthday.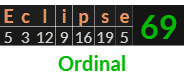 That Latin cipher exhibits how the ultimate eclipse number is 1331. Tori died on a date with numerology of 13 and 31:

---
Tori Bowie
Tori Bowie has died on May 3rd, or 5/3.

Notice the Ordinal value of 116. She died in the city of Clermont a span of 116 days after David Bowie's birthday, 116 days before her own birthday, and a span of 11 months, 6 days before the next Total solar eclipse:


116 is an upside-down 911

---
Thirty-three (33)
911 is the 156th Prime number
Eclipses always occur 1, 5, or 6 lunations apart

156 is the Ordinal value of Thirty-three. In numerology, 2016 is identical to 216, which is 6×6×6.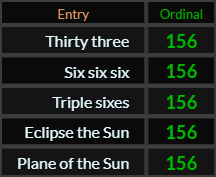 Tori's next birthday would have been her 33rd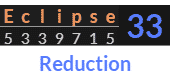 33 =

11

×

3


The 33rd Prime number is 137

Thirty-three has double gematria of 515 when spelled out.



---
Tori Bowie won Olympic Gold at the 31st Olympiad.
The 
31
st Prime number is 
127



---
Birth Numerology
Tori Bowie had birth numerology of 54 and 125:


The famous rockstar was born in '47 on a date with Multiplicative numerology of 2016:

Bowie died in the year 2016 on a date with numerology of 47 and 27: