Madonna's Brother Anthony Ciccone Dies @ 66

Although Anthony Ciccone died on February 24th, news was not posted online until his wife Melanie made the announcement on February 25th, or 2/25.


239 is the 52nd Prime number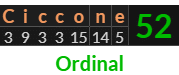 ---
Sixty-six
Anthony, who died at age 66, was married to Madonna's sister, Melanie Ciccone.

He died in connection to Madonna's last birthday, which fell on a 66 date: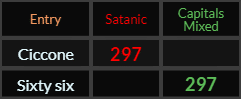 He died 66 months after the first Great American Eclipse, which fell on a date with Primary numerology of 66: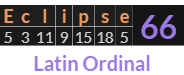 ---
Anthony Ciccone mataches Sixty-six in Ordinal gematria.

149 is the 35th Prime number
Ciccone was born on the 3rd of May, or 3/5



---
Skull and Bones
Eclipses from the same Saros cycle are separated by 223 lunar phases. In Latin, Anthony's whife Melanie Ciccone has 223 gematria. This is the big Skull and Bones number, as their symbol contains a 322.



Skull and Bones has remarkable overlap with Anthony Gerard Ciccone.


202 connects to the Total solar eclipse code.

---
Eclipse Code


Anthony Ciccone died 6 months, 8 days after Madonna's birthday and 68 days before his own:

Including the end date, it's 6 months, 9 days or 69 days. His death fell on a date with Primary numerology of 69 and 33:



Madonna has Multiplicative birth numerology of 192:

The 33rd Prime number is 137

Madonna was born on the date leaving 137 days in the year:

---
Madonna is currently 64 years old. Anthony had Standard birth numerology of 64: