Actor Jansen Panettiere Dies @ 28

This story broke on February 20th, which was the date of the New Moon for Brown Lunation # 1,239:

Jansen Rayne Panettiere played Casper on the show The Walking Dead.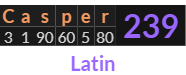 Jansen Panettiere, whose first credited acting role was in Even Stevens, was born on a date with Primary numerology of 147:



His death is connected to Doors singer Jim Morrison, who suddenly passed away on 7/3/71, a date with Multiplicative numerology of 147:

Morrison reportedly Drowned in a Bathtub.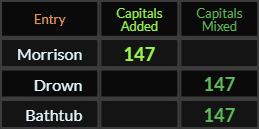 In 2012, another famous singer drowned in a bathtub when Whitney Houston was found dead.

Jansen died on 

2/19/2023
---
The Doors
In late January, Jansen posted this image to Instagram with his sister Hayden giving him a haircut. In the photo, Jansen is wearing a Doors T-shirt: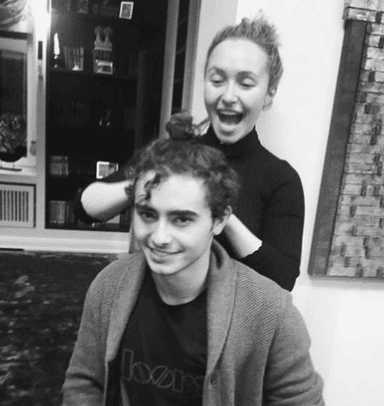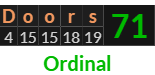 Jim Morrison famously died in the year '71. His last and full names match Jansen's full name in gematria. This also syncs up with Bobbi Kristina Brown, Whitney Houston's daughter who also died from complications of drowning in a bathtub.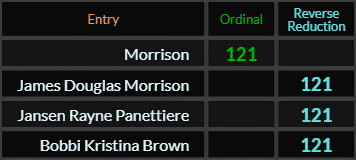 The 121st Prime number is 661. "Doors T-shirt" = 661 (Latin)
---
The year '63 is when some sources say Morrison's music career began. He was born on a date with Standard numerology of 63:

Jim Morrison died in Paris, which both sum to 63 like Jansen.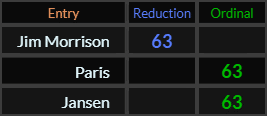 Whitney Houston was born in '63, just four days before Sridevi, who was also found dead in a bathtub.

Bobbi Kristina Brown was born on the 63rd day of the year:
Back in 1969, actress Judy Garland was also found dead in a bathtub. Her real name was Frances Ethel Gumm.

---
Bobbi Kristina Brown was born on 3/4 and died a span of 340 days after Hayden Panettiere's birthday. This past November, pop singer Aaron Carter allegedly drowned in a bathtub at the age of 34.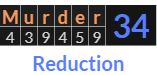 ---
Jim Morrison (28 & 33)

Doors singer Jim Morrison was born on a date with Reduced numerology of 28, and died on another date with 28 numerology: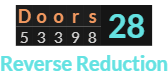 It happened on a date with Reduced numerology of 28:




Jansen and Hayden were both born in Palisades, New York.

Jansen's sister Hayden turned 28 years old on the date of the 2017 Total solar eclipse, and he died 2008 days later:

The 28th Prime number is 107

---
The number Twenty-eight has matching 156 gematria with Thirty-three, which is often very connected to stories about death.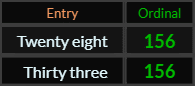 ---
27 Club / Sacrifice Code
Paris has gematria of 27 and 270.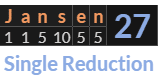 17 was found in the date numerology above, matching "Kill" and the address Morrison died at. 170 is the number that Hayden Panettiere shares with Sacrifice.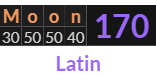 Morrison's full name has matching 248 gematria with Hayden's full name. This is the Reverse sum of Human sacrifice.


---
Jim Morrison died on July 3rd, or 7/3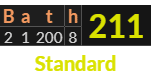 Whitney Houston drowned in a Bath tub on February 11th, or 2/11. She was exactly 50 lunar years old (12 lunations per year).

---
"Haircut" Riddle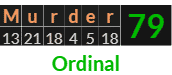 The 79th Prime number is 401



The reverse of 401 is 104. In Ordinal, The Doors sums to 104. Both siblings' full names share this number in Reduction.


---
Notice how Doors shares matching 611 gematria with Haircut.





---
"Kill" Code
In Reverse, Doors sums to 64 and 28.

Jansen Panettiere died on a date with Primary numerology of 64 and 28: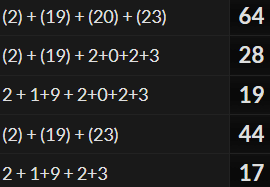 The date has perfect matching numerology with the word Kill.

Jim Morrison died at 17–19, Rue Beautreillis in Le Marais in Paris, France.
---
Extras
Hayden Panettiere was born on 8/21

Sridevi was born just four days after Whitney Houston.


Jansen died in 2023


---
The Prime Factors of 33 are 

11

×

3

This is a notorious number of dishonesty.