"Mr. Irrelevant" Brock Purdy Beats the GOAT Tom Brady

In last week's Super Stream, I talked about how the major theme of last week's NFL games was the 470th anniversary of the death of Francis Xavier, a founder of the Jesuit Order. The current Pope is the first to be a member of the Jesuit Order, and his name Francis comes from Francis of Assisi. The city of San Francisco is also named after Francis of Assisi, and San Francisco's starting QB Jimmy Garoppolo suffered a foot injury that will see him miss the end of the season.
Taking the reins at QB for the San Francisco 49ers yesterday was quarterback Brock Purdy, who was picked in the first-ever NFL Draft in Las Vegas, Nevada.

---
Mr. Irrelevant
Purdy's start was particularly noteworthy because he was the absolute last pick in this past year's NFL Draft. There is apparently a term for this – the last player picked every year is called Mr. Irrelevant, and has been for every year since the mid-70's.

Yesterday's game was against the Tampa Bay Bucs.

In Reduction, both Mr. Irrelevant and Irrelevant have gematria of 65.
This game was played on a date with Primary numerology of 65:

---
In this highlight, you can hear the announcers gush over how amazing what they were witnessing was. They specifically pointed out that Brock Purdy was 22 years, 146 days younger than Tom Brady.

The 22nd Prime number is 79




The word Irrelevant has some overlap with Purdy and Brock Purdy.

---
Thirteen
Yesterday's game had Standard numerology of 45, which is a number heavily-connected to 13:


This year's NFL Draft took place in Las Vegas.

Purdy's breakout performance occurred during the 49ers' 13th game of the season. This is quite appropriate, considering how this is the number on his jersey: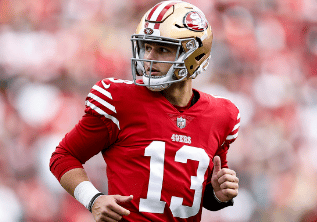 13 is a special number to the 49ers – consider how 4+9 = 13.
With the victory, the 49ers improved to 9-4. The first name Brock sums to 49, like the name of his team.