Arrest Made in Murder of Rapper Takeoff

Takeoff's real middle name was Khari. This seems a bit unusual, given that it's a name originating on the Indian subcontinent. It stands out, however, because this is also the middle name of Dave Chappelle, who hosted Saturday Night Live less than two weeks after the killing:

Chappelle reached national stardom for his TV series Chappelle's Show, which debuted on January 22nd, or 1/22:

News of this arrest made headlines on December 2nd, or 12/2. The suspect is named Patrick Xavier Clark.

Patrick Clark is also the name of embattled professional wrestler Velveteen Dream:

That Patrick Clark was born on a date with Standard numerology of 122:

122 is the first multiple of 61


Dave Chappelle also sums to 61.

The arrest was made on a date with Primary numerology of 56:

The suspect's middle name Xavier reminds us of Francis Xavier, a founding member of the Society of Jesus, whose motto is Ad Majorem dei Gloriam. Their symbol reads "Iesus Hominum Salvator", Latin for "Jesus, Savior of Man."


---
On the same date as this arrest, Kate Middleton, Princess of Wales, wore an emerald choker as a tribute to Princess Diana, whose middle name was Frances:

Princess Di was born in '61 and would currently be 61 years old. The Jesuits were founded in the year 1540.


Diana's middle name was Frances
---
Francis Xavier / Jesuit Order
Although the arrest of Patrick Clark was made yesterday, it remains in the headlines today, December 3rd, or 12/3, which is the anniversary of Francis Xavier's death: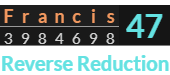 Francis Xavier was born on April 7th, or 4/7:

Pope Francis is the first pope to have belonged to Francis Xavier's Jesuit Order. His papal title sums to 122 in Ordinal, like the date of the arrest. His real name sums to 312 in Reverse, and today's date can be written as 3/12. Francis Xavier was canonized on March 12th, the other date that can be written as 3/12.

December 2nd, or 12/2, was also Packers' quarterback Aaron Rodgers' birthday.

Rodgers turned 39 years old
---
In Ordinal, Rodgers' full name sums to 201.

Perhaps the most symbolic number for The Jesuit Order, which was founded by Ignatius of Loyola and Francis Xavier, is 201. The current pope, Jorge Mario Bergoglio, lives at suite 201 of the Domus Sanctae Marthae.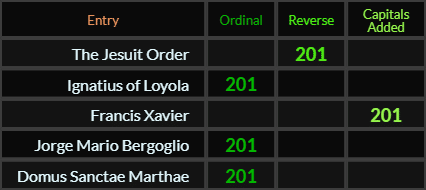 This is the Reverse value of the suspect, Patrick Clark.

The Jesuit Order sums to 1336 while The Jesuits sums to 136.

The arrest was made on the 336th day of the year:
---
Black Star / David Bowie
We saw that this is connected to Dave Chappelle. Check out the wild alignment in Chappelle's ages for Takeoff's birth and death.

7603 is the 966th Prime number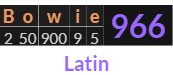 Two days before he died, musician David Bowie released an album called Blackstar. The musical group for SNL on the night Chappelle hosted was called Black Star. Black Star is a rap group, much like how Takeoff was part of rap group Migos.

Francis Xavier was born in 1506

Today is a span of 33 days after the murder
The man who was arrested is 33 years old