Numerology Preview of World Series Game 3
In my live stream from yesterday, I spoke about the big Fibonacci riddle for Alex Bregman in Game 2 of the World Series. "Alex Bregman" = 102, and the 12th Fibonacci number is 144. "Alexander Bregman" = 144 was 10440 days old on a date with numerology of 144.
What I failed to mention in that video, however, is that it was also Houston's 144th postseason game in their history. They went on to collect their 74th postseason victory, and "Alexander Bregman" = 704.
Game 3 has some interesting themes and alignments that suggest to me the Phillies will lose, dropping their all-time postseason record to 59-58.
DISCLAIMER: I do not personally bet on sports and believe the outcomes of games can change based on wagers placed
UPDATE: Game 3 has been postponed until Tuesday, November 1st
---

Tonight's game falls on October 31st, which is not only Halloween, but also the anniversary of Martin Luther's 95 Theses, which gave rise to the Protestant movement.
Last year, the Astros played on Halloween, defeating the Braves, who had not won the World Series since '95 against the Cleveland Indians, by a final score of 9-5.

The number 95 has matching 57 gematria with World Series and Halloween. This number connects tonight's starting pitchers, Noah Syndergaard and Lance McCullers Jr. The Phillies enter the game with 57 postseason losses.




This points to a larger riddle connected to Robert Thomson, the Phillies' manager who took over in the middle of the season and unexpectedly led them to the World Series. The first multiple of 57 is 114.

Thomson replaced Joe Girardi, whose birthday is October 14th, or 10/14:

He was born in '64, and the 64th Prime is 311
Today is the 31st of October, or

31/10
Joe was born in Peoria, and wore #25 while coaching for Philadelphia.

---
Rob Thomson
Tonight is the Phillies' 117th all-time postseason game. The last time they played on Halloween was Thirteen years ago.

Thirteen years ago was 2009, when the Phillies lost to the Yankees and their head coach Joe Girardi. It just so happens that Joe Girardi is the manager the Phillies fired this past June after the team suffered their 29th loss. Using Prime numbers, Halloween sums to 290.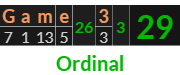 29

+

29

=

58
Earlier this month, Joe Girardi turned 58 years old. His replacement, Rob Thomson, has gematria of 58.

Rob Thomson was 58 years old when he became the new Manager, and is now 59 years old. He also wears #59: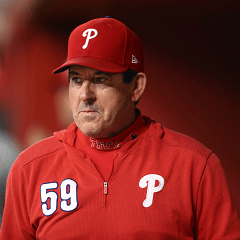 If the Phillies lose tonight, they will fall to 59-58 all-time in the postseason.


---
Joe Girardi was fired after accruing a total of 1120 career wins. Last year's World Series concluded in the first game after Halloween, which was played in Houston on November 2nd, or 11/2.


---
Jeremy Pena

I have not done a deep dive or anything, but look at this dude's numbers for today. First, consider how today's date is the 31st of October, or 31/10. He's a span of exactly 301 months, 10 days old today, or exactly 1310 weeks, a four-digit number with the same four digits:


This is also a span of 9171 days, or 9170 days without the end date. These two four-digit numbers have the same four digits as his full name's gematria in the two primary extended ciphers.


It would make sense for Jeremy Pena to have a big moment in the 2022 World Series.

He has birth numerology of 57 and 147, connecting to both World Series and Houston Astros: