Congressman Sean Casten's Daughter Dies @ 17
My last post from earlier today points out how there is a big riddle connected to the United States flag going on. Today is Flag Day, and Washington, D.C. is flying an altered 51-star flag to celebrate the passage of the Washington, D.C. Admission Act, passed by congress back in April.
Just after completing that post, I saw this news story about a congressman out of Illinois:

We were positive there would be an associated Ritual sacrifice for this story, as the number Fifty-one has matching gematria.

Washington D.C. mayor Muriel Bowser is 616 lunar phases old:

---
Sean Thomas Casten sums to 51. His daughter was named Gwen Casten, which also yields a 51.

The factors of 51 are 17×3. Gwen was just 17 years old.
In the alphabetic order, Fifty-first state sums to 203.



---
The flag ritual in D.C. falls on Donald Trump's 76th birthday.




---
666 Coding
Fifty-first has gematria of both 66 and 60.

My last post pointed out how Muriel Bowser, the mayor of D.C., altered the Star-Spangled Banner for her city when she was 666 sidereal months old:


Gwen Casten has Sumerian gematria of 666.


The shadow the Moon will be castin' that day intersects the shadow of the 2017 eclipse in the state of Illinois, where Casten died: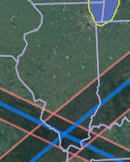 Her death occurred at her home in Downers Grove, which has Reduction gematria of 66 and 60.

But better yet – Downers Grove has the exact same Latin gematria as Washington, District of Columbia.


---