Four-Time Stanley Cup Winner Guy Lafleur Dies @ 70
Last week, I pointed out how the deaths of two former NHL legends were connected to Dallas Cowboys coach Mike McCarthy. First, we had the death of Mike Bossy. Then, we learned about the death of Tom McCarthy, a longtime member of the North Stars, who since moved to Dallas.
Mike McCarthy's last coaching job before Dallas was the Green Bay Packers. The man who replaced him in Green Bay is named Matt Lafleur. Yesterday, we learned about the death of Canadiens Hall of Famer Guy Lafleur at the age of 70:


Lafleur and the Canadiens won four straight Stanley Cups, which were followed by the four straight Stanley Cups won by Mike Bossy and the Islanders. Bossy scored 60 goals in 5 straight seasons, while Guy Lafleur scored 50 goals in 6 straight seasons. Both men died in the Montreal metropolitan area.
---
Matt Lafleur was born on a date with Primary numerology of 112:

Guy Lafleur, whose nickname was The Flower, died on the 112th day of the year:


This stands out because the next Full Moon will be the Flower Moon. That happens on May 16th, which is the anniversary of Lafleur's first Stanley Cup.
Lafleur was born on a date with Primary numerology of 99 in the year '51: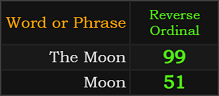 Using Square numbers, Guy Lafleur has matching 223 gematria with the Hebrew value for The Moon.



---
It will be the only Full Moon during the time of Taurus this year, and his death occurred during the third day of Taurus.
The ruling planet of Taurus is Venus. In the Book of Revelation, Jesus proclaims that he is the "bright and morning star" in verse 22:16, and the morning star is recognized as Venus to this very day:

This number has been trending lately – recall my posts on the Russian Moskva and on the Venus connections between Barack Obama and Will Smith.

While he was winning Stanley Cups in Montreal, Guy's coach was Scotty Bowman, whose nine championships make him the winningest coach in NHL history.

Lafleur died 216 days after Scotty's birthday, and 149 days before his next:

This is the value of both Planet Venus and Morning Star.

It's also the Ordinal value of Montreal Canadien.

His death fell on a date with Primary numerology of 68:

Guy Lafleur was inducted into the Hockey Hall of Fame in '88. Scotty Bowman is currently 88 years old.
---
It takes Venus ~224 days to orbit the Sun. Lafleur died on April 22nd, written 22/4. This is the Ordinal value of Scotty Bowman's full name.