Jackson's Confirmation Connected to Michael Jackson
There's been a couple of controversies surrounding the nomination of Ketanji Brown Jackson as the next Supreme Court Justice. One of those involved her record on child sex crimes:
Another one was her inability to define what a "woman" was:

These are both relevant to the King of Pop, Michael Jackson, who spent a lot of time in court defending himself against charges of sex crimes against children. As he aged and went through several major surgeries, he grew increasingly androgynous in appearance.
---


Michael Jackson was born on the date leaving 124 days in the year, which was the 241st day of the year:


241 is the 53rd Prime number
Ketanji Jackson was confirmed on a date with Primary numerology of 53:

Michael's doctor Conrad Murray was a Grenadian who was born in the year '53.

---
Ketanji Brown Jackson was born in 1970. This syncs up with the most famous Jackson in pop culture's history, Michael Joseph Jackson, who was born on August 29th, or 29/8.

They also share Reduction gematria.

---






The 91st Prime number is

467


The 467th Prime number is 3319
Jackson was confirmed a span of 4670 days after the death of Michael Jackson, and a span of exactly 3319 weeks after he was born: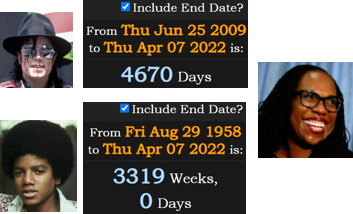 Today has Standard numerology of 33:


---
Conrad Murray

The man who was accused of killing Michael Jackson was Conrad Murray, who is currently 69 years, 47 days old here on 4/7:

---

367 is the 73rd Prime number