Stanford Goaltender Katie Meyer Dies @ 22

Katie died in Stanford, California on March 1st, or 3/01.
---
When hearing about the passing of this goalkeeper, I immediately thought of this post from 2019 involving the death of Taylor Ceepo (think Ceepo / Keeper).

The similarities were striking – two sudden, premature deaths of blonde female athletes, one in '22 and one in '19, both of whom were 22 years old and wore #19 for their respective teams: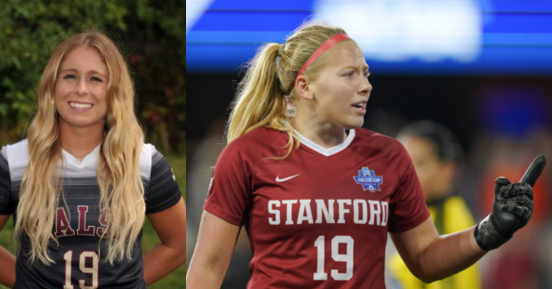 Each woman has a name that sums to 19 in Reduction.

Taylor Ceepo's birthday was 11/9
Katie Meyer was born one day after

1/19
Ceepo went to Walsh, while Katie went to Stanford.


Meyer won the National Championship in '19

Her cause of death is being reported as Suicide.

Katie went to Stanford, which is just outside of San Jose, about 20 minutes from where the San Francisco 49ers play their home games. The 49ers are led by quarterback Jimmy Garoppolo.

The most famous quarterback to ever come out of Stanford in John Elway, who won to Super Bowls for Denver.

Speaking of a John in Denver…singer John Denver died on a date with 119 numerology:

On the same day as Meyer's death, we learned that Jimmy Garoppolo would have shoulder surgery, forcing him to miss 16 weeks:

16 weeks is 112 days



---
It's worth mentioning that Meyer had 6,666 tweets on her Twitter feed:


I grew up idolizing a guy who wore #19 as a young kid – Robin Yount of the "Milwaukee Brewers" = 190. Yount was amazingly 66 years, 166 days old yesterday. A girl named "Katie" sang the national anthem at a game I went to in 2018 where they gave away a free Robin Yount jersey.
---
NBA
The pro basketball team nearest to Stanford is the Golden State Warriors, who lost to the Timberwolves on this same date:

GOLden State…GOALkeeper…
The two teams combined to score 243 points


Katie Meyer was born on 1/20/2000. Golden State sits on the 122nd meridian.

---
Each woman's name has a Prime number connection to the number of days the other was after her birthday.

173 is the 40th Prime number
It was the Warriors' 19th loss on the season

Meyer died 40 days (or a span of 41) after her last birthday:

She was born on a date with Primary numerology of 41:

---
My decode on Taylor Ceepo explained how relevant the Eclipse code was.


The 192nd Prime number is 1163
The same day we learned of what happened to Ceepo, Ukrainian president Volodymyr Zelenskyy was sworn in to office. Seems relevant considering how his nation is now under siege by Russian forces.