Austin Cindric Wins Daytona 500 on Roger Penske's Birthday


On the date 2/20/2022, a Rookie with 220 gematria, who was born on the 2nd and had previously won the 2020 Xfinity Series, won the Daytona 500 in the #2 car.


220 is the Octal of 144

He led 21 laps in the race. Due to Cautions, the race was extended to 201 laps.

Austin was born on September 2nd, written 9/2 or 2/9.

---
Team Penske
Cindric drives for Team Penske. His father Tim Cindric is the team's President and the owner is Roger Penske. Austin's big win falls on Penske's birthday:

Roger turns 85 years old today

Cindric beat Bubba Wallace to the line by less than a car length.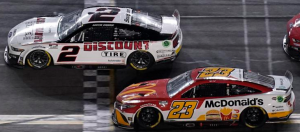 His number Two car edged out the #23 car.





---
In Reverse, the number Twenty-three sums to 134.


Today's win was the 134th Cup Series victory for the race team owned by Roger Penske, meaning they entered 2022 with 133 Cup Series victories. Austin Cindric joined the Cup Series after 133 races on the Xfinity "minor league" circuit.


Roger Penske was voted the Driver of the Year in '61. He was 61 years old when Austin Cindric was born.