Some Super Bowl LVI Numerology
Super Bowl 56 was played in L.A., California and won by The L.A. Rams, their first championship since Super Bowl 34.

The Rams defeated the Bengals, the NFL's "Tiger" team, just after the year of the Tiger began.

Tom Brady, who wore #12, announced his retirement on February 1st, or 2/01, the first day of the year of the Tiger.
Tom Brady is called the Goat. The NFL team most closely-related to a goat is the Rams. Tom's first Super Bowl victory came against the St. Louis Rams. His last Super Bowl victory against the NFC came against the Los Angeles Rams. The final game of his career last month was a playoff loss to the Rams.

This was the NFL's 102nd season.
The Tiger team lost by a score of 20-23:


---
The Rams won the Super Bowl on a date with Primary numerology of 57:

This year's big game was played on the 44th day of 2022.

The 44th Prime number is 193


---
Tom Brady retired while playing for Tampa Bay, who wear the Jesuit red and black, and play next to Jesuit High School.

In Jewish gematria, Los Angeles Rams also sums to 529.

529 is 23×23
The Rams won with 23 points
They are now 2-3 in Super Bowls


The 23rd Prime number is

83



Brady

was born on 8/3

The Rams defeated Joe Burrow, whose career to this point has been a riddle connected to Billy Cannon, who had the same birthday as Brady:

SB LVI was the Rams' 625th win in franchise history

---
Odell Beckham Jr.
The game's first touchdown was scored by star wideout Odell Beckham Jr.: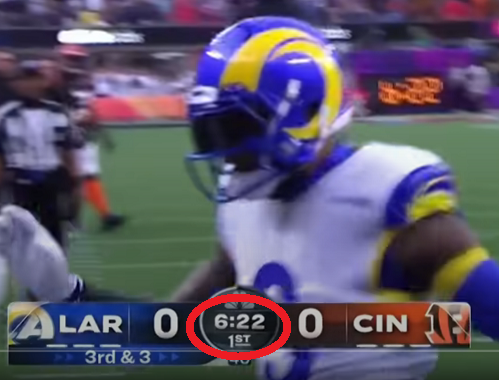 Notice how the clock stopped with 6:22 left in the first. That means a total of 8:38 had elapsed in the game.

This completed a drive that lasted 3:35 for The L.A. Rams.

---
Of all the injuries to occur during the postseason, the one that looked the most fake was Odell's "ACL tear". Why would Odell Beckham Jr., who wears number Three, be chosen for a numeric ritual? Recall how Saturn sums to 56 in Hebrew, the number stamped all over this year's Super Bowl. Odell has 56 career regular season touchdown catches.


Odell was born 56 days before the year '93, on the date November 5th or 5/11:



This year's Super Bowl finished the '21 NFL season.

---
We're told that Beckham's ACL was Torn. It was the second time it's happened – remarkably, both games were against the Bengals. His first tear fell on the date leaving 67 days in the year:




That will be a date with Primary numerology of 67:

The Rams still have 607 franchise losses
67 is the 19th Prime number

---
Beckham's first ACL tear was revealed on October 26th, written 26/10. ACL is short for Anterior cruciate ligament.


The Browns announced they were releasing Odell when he was a span of 29 years, 1 day old. He then signed with the Rams a span of exactly 1 week after his 29th birthday.
---
Saturn is the 6th planet from the Sun, and the 6th Prime number is 13, which is the number I've almost obsessively stated is the primary number of this year's Super Bowl.
Odell wore #13 to start the year with Cleveland
The 13th Triangular number is 91
The Super Bowl was Sean McVay's 91st game
The 13th Fibonacci number is 233

---
Super Bowl MVP
In a season that was all about the number 13, the 6th Prime number, Cooper Kupp was awarded the Pete Rozelle Trophy.
His win in Super Bowl LVI came over Cincinnati.





Cooper is from Yakima, Washington, proving my case that this game had a huge riddle connected to Zachary K. Hubbard, who lives in Yakima.
Whatever you think about Zach, one thing is indisputable – his work benefits these leagues and the businesses who profit off of sports gambling, which was legalized in the U.S. just a couple of years after he first drew attention. Following a small viewer drop-off in 2016, NFL viewership is back to right about where it previously was. This proves that either people don't care if the games are rigged, or that somehow fewer people have become aware of his work, which does not seem to be the case.
So what is it that's really going on here? Is this just a set of organic synchronicities, or did the NFL hand-choose several people for this game years in advance just to pay tribute to him? If this is some sort of intentional tribute, does that definitively mean he's "in on it", or is his obfuscation of the truth an unintentional side effect of his desire to profit off of those who are looking to make some quick money?
I tend to refrain voicing any opinions on the matter because this topic, like so many others, leaves me with more questions than answers. Since I'm the only person I can truly speak for, it's pointless for me to take a side – but my gut tells me that, among other reasons, no one could be paid to be as obsessed with gematria as he is.
Regardless, his existence has proven transformative, and that alone is part of a ripple much greater than any individual one of us, one which even I seem to be a part of. And if I, the only person I can truly speak for, was not consciously directed to assist with this work, then why should I assume anyone else was? This is the great paradox that forces me to step back and even favor the organic side of things when speaking to others about it.
All that being said…man, do some of these games look rigged.