My First Tiddlywinks Championship in My 13th Year
Although we occasionally take our shots from the rest of the nation, Wisconsin is actually a fun place to live. A friendly atmosphere outsiders call "Midwest Nice" permeates the air here, and there's never any shortage of fun things to do, even during our long winters. This post is about one of those activities.
While growing up, I spent the second weekend of each February staying at a friends' house while my parents would join their friends and family to play in the annual Sussex VFW Tiddlywinks tournament. While somewhat similar to what is played in England and at Ivy League universities, the Veterans crafted their own version of the game and ever since the late 70's, have hosted a tournament that not only helps support the VFW, but also keeps their wartime tradition alive.
The object of Tiddlywinks is to score as many 10's as you can. Of course, I teach base-10 numerology on this blog, but what many people don't know is that my last name Tikkuri, which is Finnish, translates to "a count of 10":

You get four winks each turn, meaning a perfect round is a 40. Hilariously, this page just happens to feature a definition for kiihtelys, which is 40, or four 10's:

---
As someone with a highly-competitive nature, I eventually grew to enjoy the game, but I couldn't play until I turned 21, which happened in 2006. The event is held annually in Sussex, Wisconsin.

I played on my parents' team in my first year of eligibility in 2007, and two years later I had my own team. However, that wasn't always the plan. The 2007 tournament fell just about six weeks before I was planning to move to California to chase my first dream as a musician, so I wasn't exactly planning on being back in Wisconsin every winter. As far as I knew, that would be the only time I ever played.
I originally planned on driving to California by myself, but my dad wound up buying a one-way ticket from Los Angeles back home so he could ride out with me. Ultimately, I only spent a few months out west before re-packing my bags and escaping what turned out to be a hellhole.
---
Fast-forward to 2022. Three-quarters of my teammates had to back out of the Tiddlywinks tournament, so it looked like I was going to have to sit this year out. But that changed late last week when I got a phone call from my dad, telling me one of his teammates came down with COVID, and they needed a replacement.
I jumped at the opportunity to play, thinking it would be nice to pair up with the old man for old time's sake. And wouldn't you know it…not only did we play well, but we ran the table and won all six games, capturing the title over 21 other teams. Although my dad has now won championships in five different decades, this was my first victory – and it came in my 13th year at the tournament.
After all the dust had settled, it eventually dawned on me that this victory was – yes, it was a numeric riddle. The synchronicity was overwhelming – years after my first tournament, which happened right before I moved to Los Angeles, I captured my first championship on the same day the Los Angeles Rams won the Super Bowl. I returned home from Los Angeles after a pretty short amount of time. The Rams won in their home stadium.
---
"Thirteen" Coding
Because of the new 17-game season, Super Bowl LVI was moved back one week this year, meaning it was the first time that Tiddlywinks was played on Super Bowl weekend.

All season, I've been explaining how the number 13 was ultra-significant to the Super Bowl, as it was the first to be played on the 13th in nearly a half-century. See this post about the playoffs, this one about how it was connected to Cincinnati, and this one about how it was coded into Los Angeles. This tournament ended on the 13th as well.
My first tournament was in 2007 – I missed 2012 and 2017, and there was no tourney in 2021, so this was my 13th. This happens to be the one number that my dad and I share in gematria:

I paid exactly $130k for my house, and his birthday is coded into my address. For the past few months, I've had this #13 jersey with my name on it hanging up in my hallway. My mom dug this up a short time ago from a charity outing we attended in 2002 – this is the year '22: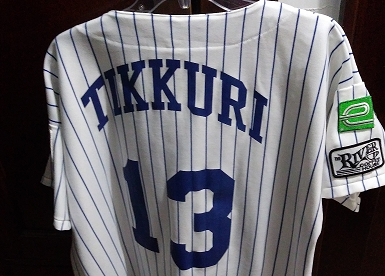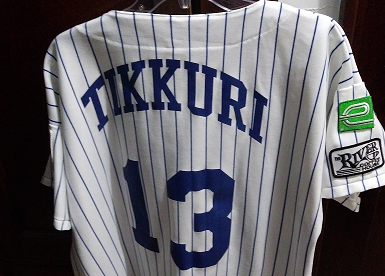 Thirteen is the only number to sum to 99 in Ordinal, which is the value of Tikkuri.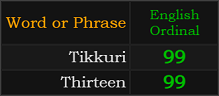 Forty-four sums to 99 in Reverse.

This year was the 44th annual tournament: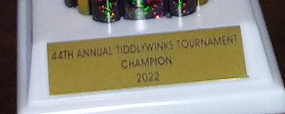 It ended on the 44th day of the year:

I'm currently 440 months old:

---
My dad's team is named the Hot Thumbs, which also matches Thirteen.

I'm currently 36 years old. This is the number that connects Tikkuri to Hot Thumbs.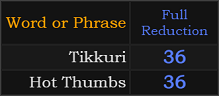 ---
Rams Connections


Our victory fell a few hours before the Super Bowl, which was won by the Los Angeles Rams. My dad's name has matching numbers with the team no matter how you write it out.

My dad's nickname also shares a 67 with The Los Angeles Rams.



This was the NFL's 102nd season.

---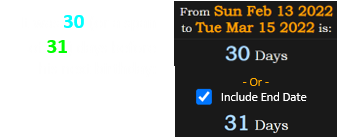 My mom and dad were both 31 years old when I was born.