Super Bowl LVI – Sean McVay, Matt Stafford, and Bobby Layne

Early on in the 1958 season, the Detroit Lions traded their star quarterback, three-time NFL champion Bobby Layne to the Pittsburgh Steelers. Layne was so upset with the move, legend has it that he "cursed" the team by claiming they would not win for another 50 years:

50 was an interesting choice for a man named Bobby Layne, whose first season with the Lions was in '50. He made this statement on his way out of Detroit, MI for Pittsburgh to play for the Steelers.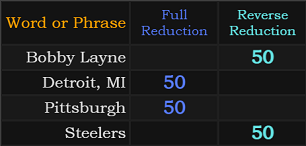 50 years after 1958 was 2008. In that year, the Lions became the first team to finish a 16 game season without a single victory: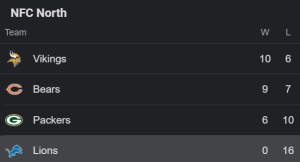 This winless season gave the Lions the first overall draft pick in 2009, which they used to draft quarterback Matthew Stafford: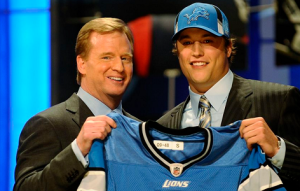 Perhaps this has something to do with why rapper 50 Cent made a surprise appearance during the halftime show.
---
"62"
Incredibly, Matthew Stafford attended the same high school as Bobby Layne – Highland Park.




Stafford, who went to college at Georgia, was led to victory in Super Bowl LVI by coach Sean McVay, who picked up his 62nd career victory over Joseph Burrow and the Bengals. It was even the Rams' 625th win in franchise history.

Bobby Layne retired after the '62 season

---
"Thirteen" Coding
Again, Layne issued his curse when he was traded from Detroit to Pittsburgh. Earlier this season, Detroit and Pittsburgh played the only Tie game of the season:

Stafford was traded from the Detroit Lions to the Los Angeles Rams.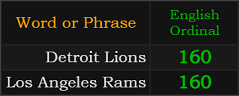 This game was played exactly 13 weeks before the Super Bowl:


Rams head coach Sean McVay was born on a date with Primary numerology of 130:


Stafford's first season in L.A. was the 13th of his career.

13 squared is 169

13 × the 13th Prime (41) = 533

The 13th Triangular number is

91


SB LVI was McVay's 91st career game as coach

---
Bobby Layne was born in

19

26
Sean McVay sums to 347 in Primes, which is the Jewish/Latin value of the number Thirteen.




347 is the 69th Prime number

---
More Connections
Stafford has Primary birth numerology of 116:



The last team Bobby Layne played for prior to his time in Detroit was the New York Bulldogs. The last team that Matthew Stafford played for prior to his time in Detroit was the Georgia Bulldogs.
---
Stafford's victory in last night's Super Bowl fell in the year '22. Bobby Layne wore #22 for each NFL team he played for: