Derek Jeter Riddle in This Week's Baseball Deaths
Yesterday, I made this post on the death of former MLB player Gerald Williams, who played several seasons for the New York Yankees. Williams' death was actually first revealed via The Player's Tribune, which is a publication founded by his Yankee teammate Derek Jeter.
As it turns out, Jeter was pretty close with Williams, calling him one of his best friends:

In 2020, Derek Jeter received the second-highest vote total ever for the hall of fame, trailing only fellow Yankee Mariano Rivera, who got 100%.
Perhaps the play Jeter is best-known for is the "flip play", which occurred during Game 3 of the 2001 ALDS: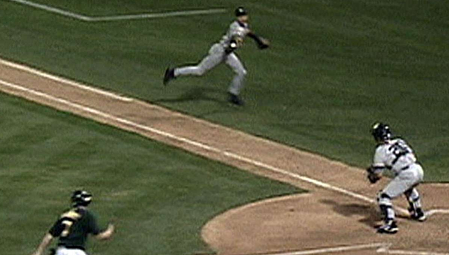 The runner at the bottom that was tagged out at the plate was Jeremy Giambi, who just died yesterday, only one day after Gerald Williams.

137 is the 33rd Prime number
As highlighted in my post, Giambi's death was a riddle connected to the Mitchell Report, which is responsible for keeping some of the best to have ever played the game out of the Hall of Fame. Jeremy was born on a date with 33 numerology, was 33 when the Mitchell Report was published, and died on another date with 33 numerology at 11:40 a.m.

The report was even published 74 days after Giambi's birthday. Both he and Derek Jeter were born in the year '74, with the latter born on the 74th meridian. Now we're being told that Jeremy committed Suicide while both of them are 47 years old.

---
In December, Derek and his wife Hannah announced the birth of their third child, named River. This stood out due to the connection above with Mariano Rivera:


It was 119 days after the anniversary of the flip play: