Former Miss USA Cheslie Kryst Jumps to Death @ 30



Kryst, who was crowned Miss USA on the date 5/2, had a Life Lesson number of 52:

Kryst was 30 years old and Jumped on the 30th day of the year:


---
"Sacrifice" Code
With 2019 added as 2+0+1+9, the Post's headline gives us a sum of 730 in the alphabetic order.

Cheslie Kryst allegedly jumped to her death yesterday morning, a date with Primary numerology of 73, on the 73rd meridian:

She was born in Jackson, Michigan.

The number 73 is found in the remarkable overlap between Cheslie Kryst and Ritual sacrifice.

---
"Jumper" Riddle
The name Cheslie Kryst is ridiculously-close to Jesus Christ. It's likely Jesus was dark-skinned – Kryst's victory at Miss USA meant that along with Miss Teen USA and Miss America, all of the reigning pageant queens were black.
This happened on January 30th, or 1/30, syncing up with the 13 value of Christ's initials.

---
It's said that she was last seen on the 29th floor of the building:


Back on 8/4/98, a date with 29 numerology, Third Eye Blind released a song called Jumper as a single off of their debut album:


The lead singer of Third Eye Blind, Stephan Jenkins, was born on September 27th, the founding date of the Society of Jesus.

Stephan turned exactly 2992 weeks old on the date Cheslie died: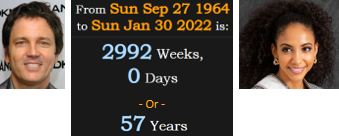 This means Stephan Jenkins is 57 years old.





---
Orion Building
Jumper was released as a single on the date leaving 149 days on the calendar:

Kryst jumped from the Orion building in NYC.

149 is the 35th Prime number
The
Orion

's address number is 350
35 squared is 1225

Christ's birthday is celebrated on Christmas, or 12/25
The Orion building is on 42nd Street
The story of Jesus is told in the New Testament, which begins with the 42 generations before him.



Kryst had Primary birth numerology of 142, matching the Ordinal value of Forty-two:


---
Crucifixion Code
Jumper also has matching 515 and 34 gematria with Jesus.

Most people assume the Crucifixion of Lord and Savor Jesus Christ happened at the age of 33.


33 is 3×11

Third Eye Blind was formed in '93. Historians believe the crucifixion was on the 93rd day of the year between 9 am and 3 pm.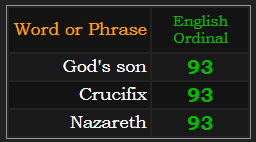 Many also believe that Jesus was actually born on September 11th, or 11/9. Jenkins has Primary birth numerology of 119: