Actor and Comedian Louie Anderson Dies @ 68

Both Louie and Louie Anderson sum to 62.


Louie was first introduced to America on the date November 20th during an episode of The Tonight Show. He died 62 days after his debut's anniversary:


In recent times, Louie was best-known for his role on the TV series Baskets, for which he won three Emmy Awards.

---
Baskets
Louie died on January 21st, the date written 1/21 or 21/1.


Today is the sixth anniversary of the debut of Baskets: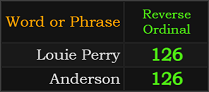 ---
The final episode of Baskets aired on August 22nd, the 234th day of the year:


Baskets was created by another "Louie" – Louis C.K., who was born on September 12th.

These two men with the same first name both have gematria of 90 and 99.

Anderson was born on 24/3, which had numerology of 99:

For about a decade, he did a Vegas residency called Louie: Larger Than Life.

In Baskets, he plays the mother of two twins played by Zach Galifianakis.

Galifianakis also has Primary birth numerology of 99:

Ninety-nine sums to 129 in Ordinal.

Louis C.K. was born on September 12th, written 12/9 or 9/12, matching Louie Anderson.

---
"44" Coding
One of only three numbers with gematria of 99 is 44.

In the year '99, Louie Anderson began hosting the game show Family Feud, which has the same F.F. alliteration as "Forty-four". He hosted the show until 2002, and 22 is half of 44.
The 44th Prime number is 193



His death fell on a date with 44 and 64 numerology, just like fellow Comedian Norm Macdonald:


Louie was replaced as Family Feud's host by actor Richard Karn.

Today is the date leaving 344 days in the year: