Planes Grounded After North Korean Missile Scare



---
2018 Hawaii Scare
This story is a tribute to the big missile scare that occurred in Hawaii in 2018, which I mentioned in this post. Both incidents are connected to the numerology of North Korea's supreme leader, Kim Jong-un.
Kim became the General Secretary of the Worker's Party on April 11th, but was not appointed as President of State Affairs until two days later:





The 59th Prime number is 277



---
Notice the date from 2018 – January 13th, or 1/13, which is the primary number of deception.

That's of course the 13th day of the year: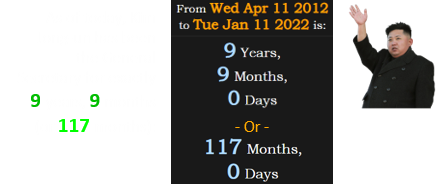 ---
Also


North Korea has the same gematria as Missile launch.

The entire nation is a joke on society – just another source of potential fear.

---
The word Missiles sums to 666.