Keanu Reeves' Role as Quarterback in The Replacements
Keanu Reeves starred as a quarterback in the 2000 movie The Replacements. Consider how relevant that is now, given that a record number of NFL players have been placed on the COVID list over the past week.
The Replacements was released on August 11th, or 11/8:


That's the anniversary of the establishment of the Green Bay Packers:

It was released on the team's 81st anniversary:


---
Reeves played a character named Shane Falco. It was the Atlanta Falcons who traded Brett Favre to the Packers. Jon Favreau plays the team's middle linebacker, which is akin to the "quarterback" of the defense.

Shane Falco is trying to make his comeback after choking in the 1996 Sugar Bowl. Brett Favre finished the 1996 season by winning the Super Bowl. The name Keanu also matches Favre in three of four base ciphers.

The only number that doesn't match is 16. Keanu wears #16 in the movie: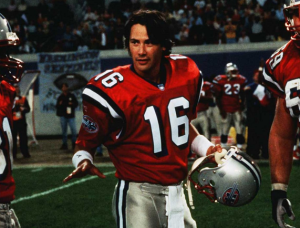 Notice how Replacements has matching gematria with Super Bowl and Championship.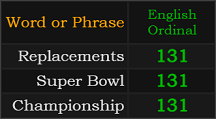 Favre won
Super Bowl
31


Favre's career touchdown record for Green Bay was broken against the Cleveland Browns.

169 is 13 squared. It was #13 who caught Rodgers' record pass.