Aaron Rodgers Snags All-Time Packers TD Total from Favre

Rodgers now has 443 career touchdown passes

The Sun

is approximately 93 million miles away

After about two decades of incompetence, Brett Lorenzo Favre led The Green Bay Packers to their first postseason of a new era in the year '93.


In 2008, the Packers were ready to move on from Brett Favre, as backup QB Aaron Charles Rodgers had shown that he was ready for a starting role.

Aaron dressed up as John Wick for Halloween: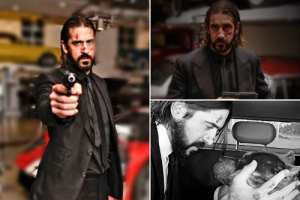 Today, Rodgers broke Brett Favre's franchise record for most career touchdown passes. Favre was known for being a bit overzealous on the field, and has the most interceptions thrown in NFL history. Rodgers, on the other hand, is the most efficient QB in NFL history, and has broken Favre's record with only 93 career interceptions:

The 93rd Prime number is 487
Rodgers entered the game with 487 career touchdown passes
He broke Favre's record on Christmas Day
On Christmas, we remember the birth of God's son, who was from Nazareth and died on the Crucifix on the 93rd day of the year between 9 am and 3 pm.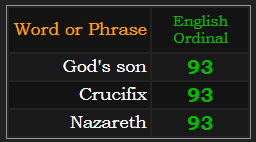 The record-breaking pass was caught by #13, like Jesus' initials of J.C.:


13 squared is 169
They broke the record against the
Cleveland Browns


---
Allen Lazard
That receiver's name is Allen Lazard.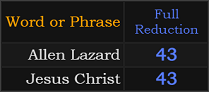 It was Lazard's 11th career touchdown
It was his 12th TD if you include the postseason. Rodgers of course wears #12.
---
Lazard has Primary birth numerology of 137:

Rodgers has 137 career wins
The Packers are now 13-7 all-time vs. CLE
137 is the 33rd Prime number
The Crucifixion of Lord and Savior Jesus Christ is believed to have been crucified at age 33 in 33 A.D.


---
Sun/Moon Riddle
Rodgers' touchdown pass was from #12 to #13. Most years have 12 lunar phases, but some have 13.
The Moon's Metonic cycle is 19 years long, 7 of which contain a Thirteenth month (lunar phase).


197 is the 45th Prime number
Rodgers currently has 45 postseason passing touchdowns. He was the MVP of Super Bowl 45.
---
The Metonic cycle is 19 years long.

The Packers were founded on August 11th, or 11/08 in 1919. The Sun is the 19th card of the Tarot:


If you include the playoffs, this was Aaron Rodgers' 488th career touchdown pass.

1919 is the Jewish/Latin value of 1331, the ultimate eclipse number. The game was played in Green Bay, Wisconsin.