Detroit Tigers 1st Base Coach Kimera Bartee Dies @ 49


---
Saturnalia
This upcoming season will be the Tigers' 122nd in franchise history. Kimera Bartee died on December 20th, or 12/20, a date with Primary numerology of 73:


He died during Saturnalia.



Kimera Anotchi Bartee had Primary birth numerology of 119:



---
Year of the Tiger
The Chinese Year of the Tiger begins on February 2nd of next year.


593 is the 108th Prime number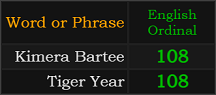 A baseball is made up of 108 double stitches.

There are 162 games in a Major League Baseball season.

---
The Year of the Tiger begins on 2/2/2022.

Specifically, it will be the year of the Water Tiger. Recall the "Water Tiger" ritual with Tiger Woods earlier this year.


---
Year of the Tiger has matching 216 and 81 gematria with Kimera Bartee.




---
Kimera Bartee was Forty-nine years old.