CDC Claims 73% of New COVID Cases are Omicron

Today is the 21st day of the last month of '21
The 21st Prime number is 73
Today's news about the Omicron variant falls on the first day of the Winter Season, which falls within the time of Saturnalia.





The World Health Organization is currently 73 years old. Last year on this date, Saturn came into conjunction with Jupiter, for an extremely special Great Conjunction.


In Ordinal,
Saturn

sums to 93


---
The 73rd Prime number is 367
Today is the
Solstice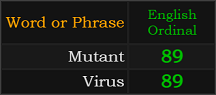 ---
The article states that we recently got the first death from this variant:

This is Australia levels of insanity in reporting…MOST of the new cases are Omicron, yet the severity is so negligible, they're still reporting on individual deaths?! Anyone still enveloped in fear after all this time must certainly be lost at this point.