Urban Meyer Fired by Jacksonville Jaguars

Urban Frank Meyer III was born on July 10th, or 10/07.


Urban Meyer famously got into hot water with Ohio State in his last year there as well, having been put on leave about a month before the season began. This post will explore the connections between that date and today's.
---
Pi Riddle
Urban Meyer's full name ends in III, indicating a strong connection to the 666 code (more on this below). Here are several examples of this from just the past few months – 1 – 2 – 3 – 4


This falls on the heels of the major 666 / Pi riddle where Steph Curry broke the NBA's 3-point record on the same day NASA's solar probe reached the Corona. Curry plays for Golden State on the 122nd meridian.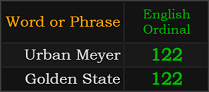 ---
Urban Meyer used to be the head coach at Ohio State, the school whose logo is a big Circle:


Curry's first championship with the Warriors was in '15. His team scored 105 points when he broke the NBA record. The Circle is the 15th letter of the alphabet. "Fifteenth" = 150. Today is the date leaving 15 days in the year:

---
Steph Curry was born in '88 on 3/14, which was the first ever Pi Day (3.14).

Pi begins with P, the 16th letter. Meyer got fired on the 16th day of the month.


---
In Jewish gematria, Pi sums to 69, like Eclipse and Circles in Ordinal.



The Jacksonville Jaguars have fired their head coach on a date with a 69 and 33 numerology:



As my post on Steph Curry's 3-point record explained, the number 33 was integral. His full name sums to 333 and "Stephen" = 33 / 30.

The 33rd Prime number is 137
Today is 3 years, 137 days after Ohio State put Meyer on administrative leave:

Jacksonville is the team that signed Tim Tebow for the preseason. Tebow's famous 3:16 game in 2012 finished with a touchdown pass to Demaryius Thomas, who just died at age 33 last week.
---
666 / Beast Coding

6+6+6 =

18


Ohio State put Meyer on leave on 1/8/18

His date of birth had similar numerology of 18:

---
Urban Meyer had a 2-11 record with the Jags.

211 is the 47th Prime number
Ohio State disciplined him on a date with Primary numerology of 47:


The Masonic compass, used to draw The Circle, is set to 47 degrees: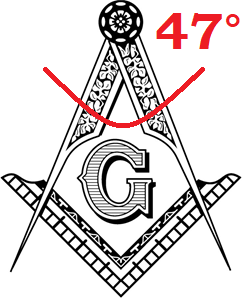 666 is revealed as the number of the Beast in the book of Revelation.

Jacksonville Jaguars is alliterative, yielding a 10-10 in Ordinal:

Because there are no printed digits in the Bible, 666 is written out as Six hundred threescore and six.