Breshad Perriman's Heroics Following Rashaad Penny's
My last post discussed how today's big game by Rashaad Penny in the Seahawks game was a big "33" riddle connected to this weekend's death of former NFL wide receiver Demaryius Thomas, who died at the age of 33. Rashaad's brother Elijhaa even scored a touchdown for the Giants to open up their game.
As luck would have it, one other team in the league scored 33 points today. It was the defending champion, Tampa Bay, who capped off this weekend's slate of afternoon games with an overtime win thanks to a 58-yard touchdown by Breshad Perriman, whose name sounds a lot like Rashaad Penny. It just so happened to be Perriman's first target of the entire game.
This oddity is accentuated by the fact that the name of the governor of Kentucky, whose state just saw a devastating storm , is named Andy Beshear. That storm leveled Mayfield, which is the name of the starting quarterback in Cleveland.

---
Tampa Bay has matching 156 gematria with Thirty-three.

Breshad's touchdown ended the game with 33 points, just as Rashaad Penny's touchdown capped his team's scoring at 33 points. 33 is the major number connected to the Crucifixion of Lord and Savior Jesus Christ.

The 33rd Prime number is 137. Seahawks RB "Rashaad" = 137 had 137 rushing yards, like the gematria of Perriman's team, Tampa Bay.

---
The name Breshad Perriman has matching 151 Ordinal gematria with Jesus Christ.



Demaryius Thomas

wore #88

---
The death of Jesus of Nazareth, whose disciples believed was God's son, Is symbolized by the Crucifix.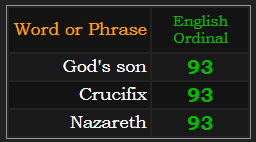 93 is a big number connected to Christianity. The first man lives to the age of 930, and Jesus' crucifixion is taught to have been on the 93rd day of the year between 9 a.m. and 3 p.m.


His birthday is September 10th, which is just one day before September 11th, the date many biblical scholars believe is Jesus' real birthday. However, most people celebrate it on Christmas, which was Demaryius's birthday.
---
Demaryius Thomas died 65 days before Super Bowl 56.

Today's tributes on the NFL fell on a date with 65 and 29 numerology, which also leaves 19 days in the year:

The 29th Prime number is 109. That's like Perriman's 10/9 birthday.

---
Meanwhile, the Denver Broncos, Thomas's old team, scored 38 points against the hapless Detroit Lions, who are now 1-11-1, which is a fun nod to the 666 code. See my post on Kearny, Arizona for more on that.