Barbados Installs First Head of State to Replace Queen Elizabeth


In addition to being President, Sandra Mason is the Chancellor of the Order of Barbados.

---
The ceremonial handoff occurred on November 30th, which I have been pointing out is the big date for Eclipse riddles.

This year was 690 years after the 1331 Eclipse:



---
"Freemasonry"



The new head of state is named Sandra Mason, and her Reduction gematriot matches Masonic in Ordinal.

---
"666" Coding
317 is the 66th Prime number. Sandra Mason became the nation's inaugural president 317 days after (or 6 weeks, 6 days before her next) birthday:

Barbados was named an independent state in '66. Republic of Barbados has Latin gematria just one off of 666.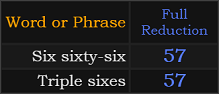 Sandra was elected President on Kamala Harris's 57th birthday:

---
Barbados's special day can be written as 30/11 as it would be in most parts of the world.

666 is called the number of The Beast, but many believe it's actually 616.

It was also 396 years, 6 months, 16 days after the English first landed on Barbados, which led to British rule:

---
As I just explained in my last post, 666 is also symbolic of Jesus.

11/9, or September 11th, is believed by many to be Jesus' birthday.