Actor Eddie Mekka Dies @ 69

Eddie Mekka was born as Rudolph Mekjian. He was best-known for playing Carmine Ragusa on the TV sitcom Laverne & Shirley.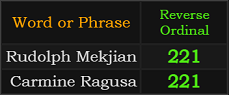 News of his death in 2021, which actually occurred 5 days ago, was not published until today, December 2nd, the date written 12/2 or 2/12.


Eddie's birth name has matching 212 Ordinal gematria with Laverne & Shirley co-star Penny Marshall.

Their deaths fell 2 years, 11 months, 10 days apart:

---
Bucks Riddle
Laverne & Shirley was based in the city of Milwaukee, who won their first major professional sports championship in 50 years this past summer.
The Bucks won the NBA Title on a date with Primary numerology of 68: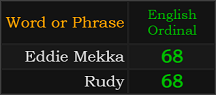 ---
When the Bucks won their last title, they were playing in an arena that used to be called the Mecca. That makes the name Eddie Mekka a bit more interesting, doesn't it?

41 is the 13th Prime number
Laverne & Shirley aired its finale on the 130th day of the year:




With the end date included, it was 131 days.


1301 is the 212th Prime number
---

The Laverne & Shirley actor died in Newhall, CA on a date with Primary numerology of 79:



---
David Lander
Mekka was born in the year '52 and died 5 months, 2 weeks after his 69th birthday. The Bucks won the Title on the 52nd anniversary of of the Moon Landing, which was in '69.

On December 4th, or 12/4 of last year, we lost actor David Lander, who played Squiggy, another supporting role on the same television series.



---

2411 is the 358th Prime number