"Wockesha" by Moneybagg Yo Released Earlier This Year

This past weekend, we had a mass casualty incident at the Christmas parade in Waukesha, Wisconsin, just four days after the murder of famous Memphis rapper Young Dolph. The man arrested for driving his SUV through the crowd was a rapper:

What are the odds that earlier this year, Moneybagg Yo, another rapper from Memphis, released this single called Wockesha?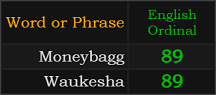 ---
The video for Wockesha premiered on June 30th, the date written 30/6:

Moneybagg Yo's real name is DeMario DeWayne White.

It's curious that his last name is White, considering White people, who make up almost 90% of Waukesha's population, are said to have been targeted at the Christmas parade.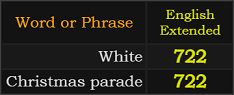 The attack fell 7 years, 220 days after Mayor Shawn N. Reilly was sworn in: