Former NFL Linebacker Sam Huff Dies @ 87

Sam Huff, whose birth name was Robert Lee Huff, passed away at the age of 87.

---
The headline has gematria of 1956.

The all-pro Linebacker was a one-time NFL champion, clinching his only title in the 1956 NFL Championship. That game is often credited with launching professional football into America's mainstream.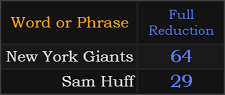 Sam Huff died on a date with a Life Lesson number of 29:

29×29 = 841. "Robert Lee "Sam" Huff Sr." = 841 (Satanic).
---
Eclipse Code

211 is the 47th Prime number
The Giants won the 1956 Championship with 47 points: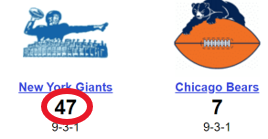 News of Sam's death was published today, the date leaving 47 days in the year:


Huff was the second NFL player be on the cover of Time Magazine. The date of his appearance was November 30th. As I've been explaining for years, November 30th is extremely integral to the Total Eclipse code:

Total solar eclipse has base gematria of 104, 67, and 202.


Robert Lee "Sam" Huff Sr. was born on 10/4, a date with numerology of 67 and 22:

The name Sam Huff has 74 Ordinal gematria, syncing up with the Latin value of Total solar eclipse.

Sam wore #70 for his entire career.

---
"Thirteen"
In Jewish Ordinal, Total eclipse sums to 130. This represents the number 13, which will carry us through the rest of this decode.


News of the death of Sam Huff, who won the '56 Championship, died exactly 13 weeks before Super Bowl 56:



Huff

was diagnosed with dementia in '13
He died on the 13th of the month
---
The 13th Prime number is 41

Huff's birthday was October 4th, written 4/10 or 10/4.
---
November 13th had Standard numerology of 45:

In Reduction, Thirteen has double gematria of 45.


His full name matches Thirteen in our standard large-number ciphers.

The one and only time he won the Super Bowl fell on a date with Primary numerology of 117:


He was born 117 years from the nearest Eclipse to fall on his October 4th birthday (2051).
---
In Jewish gematria, Thirteen sums to 347.

347 is the 69th Prime number


The 66th Prime number is 317
Robert died on the 317th day of the year:


---
"Thirty-three"
Both his legal and common first names have gematria of 33 like Eclipse.

His legal name has matching gematria with Thirty-three.

33 is connected to 156 and the Eclipse code.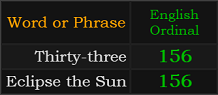 Robert Huff Sr. went to college at West Virginia.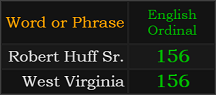 This is of course connected to 666, one of the ultimate Eclipse numbers.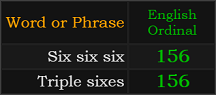 He died at 87.