AARON Rodgers Positive for COVID After Hank AARON Tribute
In January of this year, I made this video explaining how the death of Hank Aaron, whose career finished in Wisconsin, was connected to Aaron Rodgers, the star QB who plays in Wisconsin.
Now, within hours of the Atlanta Braves winning the World Series, we learn that Aaron Rodgers has been diagnosed with COVID-19:

Rodgers' birthday is 12/2. Hank died on 1/22, the same weekend as Ted Thompson, the man who drafted Aaron Rodgers. Hank died in Atlanta, Georgia, while Ted died in Atlanta, Texas.
Rodgers will be missing this week's game in Kansas City.


One of the biggest numbers of the Coronavirus pandemic, which began in 2020, is 220. Of course, there are 22 players on the field for each play in football.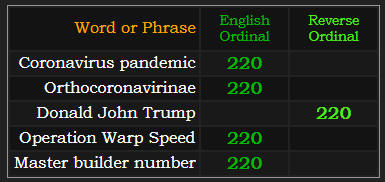 ---
The World Health Organization declared a COVID-19 pandemic on March 11th last year, which can be written as 11/3. Today's announcement is on November 3rd, or 11/3, and the game he'll miss falls on the 311th day of the year. 3×11 = 33.


Rodgers is coming off his 133rd career victory

Coronavirus

was declared a National Emergency on 13/03


---
Jordan Love
This year's World Series was the 117th in history. Green Bay will need their backup Quarterback, Jordan Love, on November 7th, or 11/7.

Love will be making his first NFL start on the date leaving 54 days in the year:


---
The Packers' coach, Matt LaFleur, celebrates his birthday today, November 3rd. Jordan Love's birthday was yesterday, November 2nd, the same day the Braves clinched the World Series. Their birthdays are almost exactly 19 years apart – fitting for a story involving COVID-19. The Packers were founded in 1919.
The World Series was a tribute to the passing of Hank Aaron. Aaron Rodgers was born on the date leaving 29 days in '83.

Hank Aaron's #44 is retired in Wisconsin and Georgia, the only two states that sum to 44 in Reduction: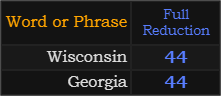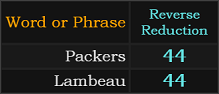 The Winning Pitcher in the clinching game was Max Fried.

Last night's loss dropped Dusty Baker's record to 40-44 all-time in the postseason. Winning manager Brian Snitker has been with the Braves organization for 44 years.
It's probably worth pointing out that Michael Jordan is 21,444 days old for both the Braves' win and today's Packer news. Michael was born on 17/2. "Aaron" = 172.