Tyler Gilbert Throws a No-Hitter in First Major League Start

Back in July of 2019, Angels pitcher Tyler Skaggs reportedly died of a drug overdose in his hotel room. Skaggs was born on July 13th, 1991, the same date the Baltimore Orioles threw a combined no-hitter in Oakland.
To honor his passing, the Angels all wore Skaggs' jersey during their first home game following his death. Amazingly, the Angels threw a combined no-hitter, the first one in California since the day Skaggs was born. Even the mainstream media had to take note of how bizarre this was:

Tonight saw another remarkable no-hitter: Tyler Gilbert managed to throw one in his first Major League start. Gilbert plays for the Arizona Diamondbacks, the only other Major League team that Tyler Skaggs played for.
Gilbert is the first man with the name Tyler to ever throw a no-hitter, and this post will examine how Arizona's 38th win in their 118th game tonight was connected to the Death of Tyler Skaggs.

---

Skaggs was born in 1991: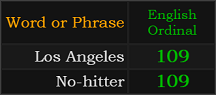 ---
Tyler Skaggs was born on the date leaving 171 days in the year:


Tyler Gilbert has matching gematria with Tyler Skaggs, including the number 63:

Gilbert's no-hitter against the Padres fell on a date with Primary numerology of 63:


---

The Angels play their home games in Los Angeles, California. Tyler Skaggs died in Southlake, Texas.


197 is the 45th Prime number
Tyler Skaggs wore #45, the number his team donned when paying tribute to him: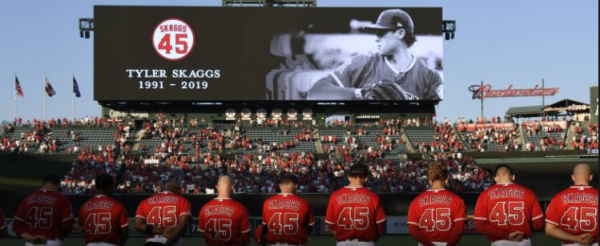 Tyler Gilbert wears #49.

---
Bobo Holloman
Gilbert became the first pitcher to throw a no-hitter in his first career start since Bobo Holloman pulled it off back in 1953. It happened on August 14th, the date written 14/8, the 226th day of the year, syncing up with Holloman's full name.


Bobo was born on March 7th, written 3/7 or 7/3.

Holloman was 64 years old when he died and would currently be 98 years old.

---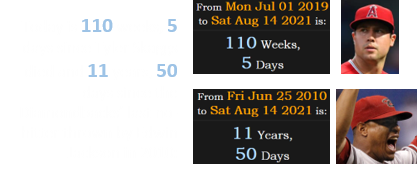 ---
Jesuit Riddles

The fact that Gilbert's no-no came against the Padres is intriguing. Just last month, I explained how the Padres are called the Friars, which is another name for a priest.
Bobo Holloman threw his legendary no-hitter on May 6th, written 5/6.



Tyler Gilbert has a Life Lesson number of 56:


Gilbert was born 235 days after the anniversary of Holloman's death, and then threw his no-hitter 235 days after his own birthday:

---


Skaggs died on July 1st, or 7/1.

Gilbert plays for Arizona.


Today is 44 days before the Jesuit Order's anniversary. "Gilbert" = 44, "No-hitter" = 44.