NCAA Division 1 Champion Sprinter Cameron Burrell Dies @ 26

Cameron Burrell won a 2018 NCAA Division 1 championship in the 100 meters. His father is Leroy Burrell, who won a gold medal in the 1992 summer Olympics. This story is in the headlines just three days after the end of this year's Olympics.
Leroy Burrell was born on 2/21
Cameron Burrell

died on the 221st day of 2021:


---
Leroy wasn't Cameron's only parent to win a gold medal at the 1992 Olympics – his mother was fellow sprinter Michelle Finn-Burrell.
The atomic mass of Gold is 196

Cameron won his national championship running for the Houston Cougars, where his father Leroy is the track and field team's coach.

---
Eclipse Code


Burrell died a span of 333 days after his birthday, and 33 days before his next:

The name Cameron is a supermatch with Eclipse, including the number 33.

He was born on 9/11 in the year 1994.


---
The name Burrell has matching Reduction gematria with Murder.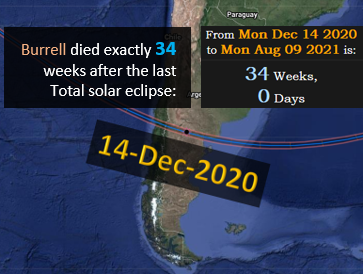 His death also fell a span of 118 days before the next total solar eclipse. His mother's name "Michelle Bonae Finn-Burrell" = 118 and "Cameron Burrell" = 647, the 118th Prime. "Death" = 118 = "Homicide".
The Sun is an average of ~93 million miles away from the Sun.

---
Sacrifice Code
In Reverse Ordinal, both Total solar eclipse and Blood sacrifice sum to 257.

This is the Ordinal value of Leroy's full name.

In Reduction, Blood sacrifice and Human sacrifice both sum to 86 and 67. Leroy was born in '67. His wife's name is "Michelle" = 67 "Finn-Burrell" = 67.

This matches Cameron Burrell in the same ciphers. He also has the infamous 616, thought by some to be the true number of the Beast.


Cameron's birthday was 9/11