Actor and Sketch Comic Trevor Moore Dies @ 41

Trevor Paul Moore was a span of 15100 days old when he died. When news of his death broke yesterday, he would have been 15101 days old:


---
Saturday Night Live
Moore was introduced to show business at a young age, getting an internship at Saturday Night Live when he was still in college.
Back in May, I made this post about the satanic ritual that played out on the final episode of SNL's 46th season. Recall that 46 is a number connected to Sacrifice.

SNL begins on Saturday night, ending on Sunday morning. The dates of this year's Saturday Night Live finale fell 2 months, 14 days and 2 months, 15 days before the death of Trevor Paul Moore:




---
Saturday Night Live was created by Lorne Michaels, who still produces the show to this day. That's not his real name though – he was born as Lorne David Lipowitz.

The May season finale of SNL was the show's 909th episode of all-time. It finished on 5/23, and 523 is the 99th Prime number.
His name sums to 234 in Ordinal. matching Producer Lorne Michaels.


I guess the name Michaels makes him sound less Jewish.


The 43rd Prime number is 191

Michaels was born in '44, while Moore was born on 4/4
Michaels was born on 11/17, while Moore died 1117 days after the last episode of his series Walk the Prank
---
Sacrifice Code


Moore had Primary birth numerology of 107:




---
Trevor's birthday of 4/4 also had a Life Lesson number of 26:


He died on the 218th day of the year:


---
Other Works
His full name had matching gematria with Murder.

Trevor Moore belonged to a comedy troupe called The Whitest Kids U Know, which had their own television show that ended in 2011.
In Standard English gematria, Murder sums to 529.

The series ended 74 days after Moore's birthday. The 74th Prime number is 373, and he died 3703 days after the finale.
---
The group's initials were WKUK.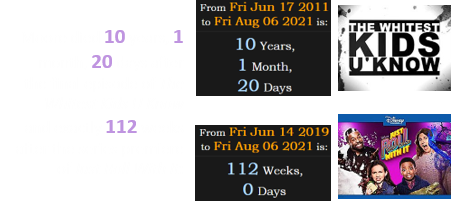 Just Roll With It is the only series to Moore's credit that is still running on television. And yes, you guessed it, it's on the Disney Channel.