Bucks Win NBA Championship in Lunar Eclipse Riddle
Tonight's game concluded the NBA season for 2021. Revelation ends with verse 22:21.
It was the Bucks (and Milwaukee's) first championship in 50 years. NBA Finals MVP Giannis Antetokounmpo, who appropriately scored 50 points, was born on December 12th, which can be written as 6/12. Prior to the start of the season, the Bucks acquired all-star Jrue Holiday, who was born on June 12th, also written 6/12.
Revelation 6:12 mentions both a solar and lunar eclipse.

The 2021 Total Lunar Eclipse fell on 5/26. The Bucks won on the anniversary of the Moon landing, which fell a span of 56 days after that eclipse: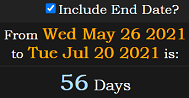 The next Full Moon on July 23rd is called the Buck Moon:

---

Suns coach Monty Williams lost his 68th game with the Suns on a date with Primary numerology of 68. The Suns overcame a 13-point deficit at the end of the first quarter to tie the game at 77-77 at the end of the third quarter. The game ended with 203 total points.

There were a total of only 89 points at halftime.



---
Recall how Giannis signed his record-breaking contract the day after last year's Total Eclipse.

The Bucks' championship parade will be on July 22nd, or 22/7.

---
Coach Budenholzer
Milwaukee Bucks has lots of overlap with the word Eclipse.


The 156th Prime number is 911

Bucks coach Mike Budenholzer was hired 9 months, 11 days after his birthday and won the NBA Championship 1160 days later:

The 911th Prime number is 7109
Game 1 of the Finals was Budenholzer's 719th career game
He won the title one day after 7/19
---
His team defeated the Suns, who were making their first Finals appearance since '93. The Sun is said to be an average of 93 million miles from Earth. Suns star Devin Booker was a span of 9030 days old. The Sun is of course what gets blocked by the Moon during an eclipse.
The Magic Square of the Sun sums to 666: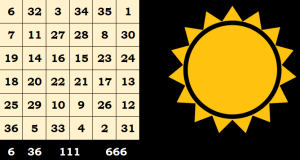 The Bucks clinched the series in Game six of The NBA Finals, which was Budenholzer's 275th game as head coach of the team. With the win, Monty Williams failed to get his 275th career coaching win. This is the Ordinal value of 666.

666 is the Number of the Beast.

Game 6 was the 724th game Budenholzer has coached in his entire career, including his time spent with the Atlanta Hawks.