MyPillow CEO Says Trump Will Be Reinstated on August 13th

A man named Michael is saying Donald Trump will make a Presidential return to the White House on August 13th, the date written 13/8.



---
This story about Donald John Trump making a Return to office was published across various outlets on July 6th, the date written 7/6.

July 6th is the date that leaves 178 days in the year, fitting for Lindell, whose nickname is the My Pillow Guy, who was born in '61:


---
Mike Lindell's Age

Donald John Trump shares 68 gematria with Lindell, who is from Mankato, Minnesota.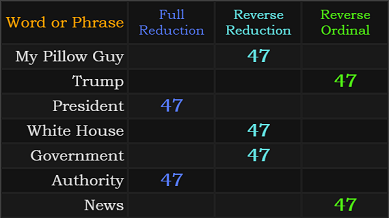 This syncs up with Lindell's full name gematria.

---
Will Donald really return on the Thirteenth of August? The CEO of MyPillow says so.


---


Lindell is the CEO of MyPillow.com.